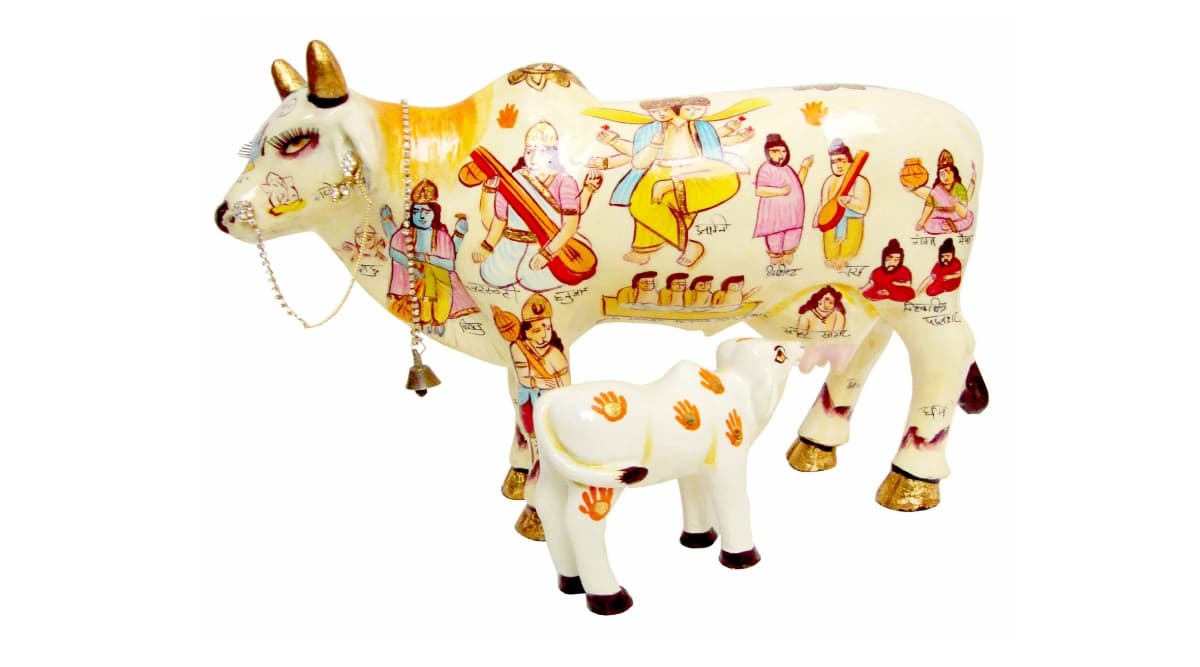 The first day of Diwali 2019 will witness a number of festivities. People will be celebrating Dhanteras, Vasubaras that is also known as Govatsa Dwadashi or Nandini Vrat. Govatsa Dwadashi is called Vasu Baras/Vasubaras in the Indian state of Maharashtra, is observed on the first day of Diwali. Vasu Baras 2019 date in India is October 25 (Friday). The festival is celebrated in the honour of cows, who are worshipped on this auspicious day for their contribution in several aspects of life. In this article, we will be looking at everything about Govatsa Dwadashi or Vasu Baras, like tithi, shubh muhurat (auspicious timings) and puja vidhi (customs and rituals). Diwali 2019 Calendar: Dates and Tithi for Dhanteras, Naraka Chaturdashi, Lakshmi Puja, Govardhan Puja and Bhai Dooj During 5-Day Hindu Festival.
When is Govatsa Dwadashi 2019?
Govatsa Dwadashi festival is observed a day before Dhanteras. Technically, as per the Hindu calendar, the Govatsa Dwadashi Pooja is performed on the 12th day (Dwadashi) of the Krishna Paksha in the month of Ashwin. As per the Gregorian calendar, the festival of Govatsa Dwadashi will be celebrated on October 25, i.e. Friday. Some people may celebrate it on October 24, as per their beliefs.
Story and Significance of Govatsa Dwadashi?
As the legend goes, it is believed that five wish-fulfilling cows (kamdhenus) emerged during the samudra manthan (great churning of the ocean). Of these five cows, a divine cow – Nandini – also emerged during the phenomenon. In order to observe this religious observance and worship the divine cow Nandini, the festival of Govatsa Dwadashi is celebrated.
On the day of Govatsa Dwadashi, cows and calves are worshipped. The devotees who observe they avoid eating any wheat or milk products during the day. It is popularly called 'Nandini Vrat'. It is believed that by observing this fast, all their wishes are fulfilled. The festival is said to bring luck to women who are trying to conceive. During Govatsa Dwadashi festival, people observe fast for the long life of their children.
Since the cow is a sacred animal for the people of the Hindu community, the Govatsa Dwadashi is also considered to be very significant. 
What is the Shubh Mahurat for Govatsa Dwadashi Puja 2019?
Govatsa Dwadashi 2019 Puja Day

 – October 25, 2019, i.e. Friday

Pradoshkala Govatsa Dwadashi 2019 Mahurat

 – 18:09 to 20:39 (6.09 pm to 8.39 pm)

Govatsa Dwadashi Pooja Time 

– 2 hours 29 minutes
How is Govatsa Dwadashi Puja Performed?
There are several ways in which one performs Govatsa Dwadashi Puja. As mentioned above, people worship cow and calves on this Govatsa Dwadashi day. A grand bath is arranged, and vermillion is slathered on the foreheads of the bovines. Also, they are decorated with bright, shiny clothes and flowers. People observe fast and ensure that they don't have wheat or any milk products during the day.
For people who can't find cows can also make figurines of a cow from clay, decorate them with kumkum and turmeric, and worship them.  Devotees offer gram and sprouted moong to the cows, as well as prayers and bhajans,  are sung in Lord Sri Krishna's praise.
The festival of Govatsa Dwadashi is a festival celebrated with much fanfare across India. While in Maharashtra, Govatsa Dwadashi is known as 'Vasu Baras', it is called 'Vagh Baras' in Gujarat. In Andhra Pradesh, Sripada Vallabha Aradhana Utsav is held annually on the Govatsa Dwadashi day. We, at LatestLY, wish you and your family a very Happy Govatsa Dwadashi 2019.