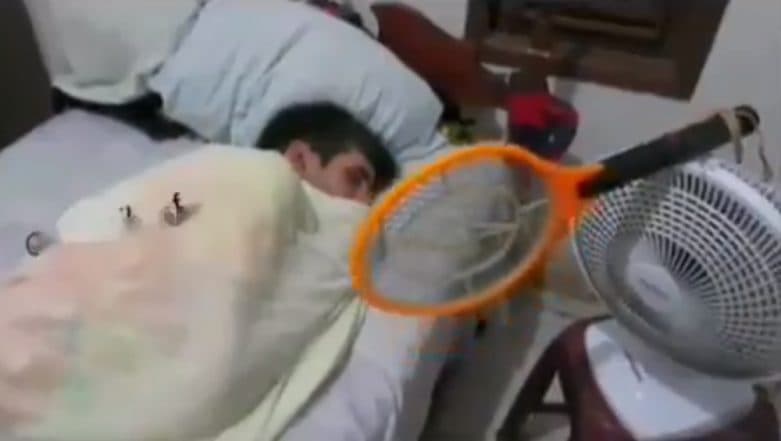 Sometimes mosquitoes can become real pain at night when you are trying to get some good night sleep and so does the heat. But is there a way you can prevent the mosquito bites as well as enjoy a cool sleep with a simple trick that is now going viral on the internet. A video of a man sleeping beside a table fan with a mosquito killing bat tied on the top of it is going viral. The hack suggests that while the table fan rotates the mosquito bat will rotate too and therefore killing the mosquitoes coming near the man while he enjoys the cool air from the table fan. Isn't it genius? DIY Hack! Woman Uses Paracetamol Tablet to Clean Dirt From Iron Box (Watch Video.)
Here's a video of the viral hack to prevent mosquito bite while sleeping:
This guy is living in 3019. pic.twitter.com/MskJDye6wi

— Bade Chote (@badechote) March 28, 2019
The hack is indeed a genius, however, it is equally funny!
Here are some of the reactions on Twitter:
Another genius in the reply section who can teach you how to eat grapes while sleeping without using your hands...
This guy is living in 4019. pic.twitter.com/VxS1xiIOLQ

— Sumanth M (@SumanthHeree) March 29, 2019
This.
Feeling really bad for this guy who can't afford a ₹350 mosquito net but have all the modern gadgets to deter moaquitos.

— Santanam (@invitrosantanu) March 29, 2019
The hack is foolproof
Wouldn't the wind from the fan be enough to keep the mosquitoes away there 🤔

— Munir Siraj Noorani (@munir_s_noorani) March 29, 2019
Oh! This is a valid point.
But you have to press down the button for the current to pass from the racket? How'd he do that?

— Dragon Shenron (@shenrondragondb) March 28, 2019
What an idea, sirji!
Lol 😂😂 whattt an idea sirji moment 😝

— silambarasan (@ssiimbuu) March 29, 2019
Quite appropriate
👏 👏 👏 pic.twitter.com/OSyOqLMNnB

— Arka Bhattacharjee (@disneybaba) March 30, 2019
LOL
Why can't they just put a sticker on the bedroom - "Mosquitoes are not allowed" 😁

— Karthick (@Karthic90924045) March 30, 2019
Such viral hacks are super entertaining. On a serious note, various herbal oil or essential oils can come to your rescue such Lemon Eucalyptus, Catnip Oil, Peppermint Oil and Lemongrass Oil. These oils are known to shoo the mosquitoes away.