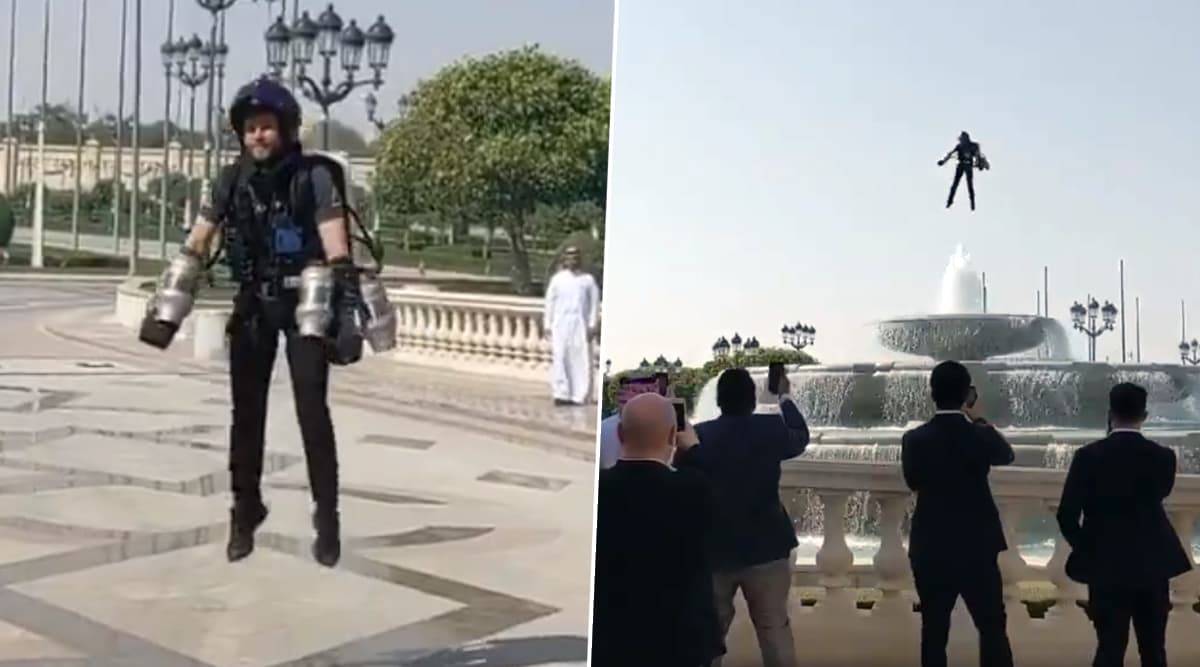 Richard Browning, the British inventor of Gravity Industries became the first person in the world to successfully to take flight by strapping jet engines to arms and legs. Fixed on to five miniature jet engines and a fighter pilot helmet, Richard Browning intrigued audiences at the Future Investment Initiative in Riyadh outside the host site, the Ritz Carlton. The sight of Richard Browning makes us wonder if humans will soon begin flying like birds. Volocopter, World's First Flying Taxi Successfully Completes Its Manned Flight Over Singapore's Marina Bay, Set to Grace the Sky by 2025 (Watch Video)
Richard was quoted as saying, "The spirit of the Apollo programme, the Kennedy space mission, the Wright brothers, the wartime drive to build the first jet engine aircraft, all of those lump-in-the-throat journeys against adversity … we tap into that similar spirit. It is such a humbling thing." Richard's company Gravity tweeted the video with the caption, "Richard Browning demoing a #jetsuit flight @FIIKSA in #SaudiArabia. #humanflight #takeongravity."
Watch Richard Browning Flying in a Jet Suit:
Richard Browning demoing a #jetsuit flight @FIIKSA in #SaudiArabia.#humanflight#takeongravity https://t.co/wrtqB89oyS

— Gravity (@takeonGravity) October 30, 2019
Richard also shared the video of him flying on his Instagram page. A crowd of spectators can be seen recording him on cameras in the background.
Watch The Video Below:
View this post on Instagram
Currently, the world's first patented Jet Suit can fly at a speed of 80.4kph and can reach an altitude of 12,000 feet. The company also has seven trained pilots who Browning says are ready to race. Browning has been to 30 countries and 92 events in the last two and a half years showing off his flying abilities. Browning's Instagram page shows him flying over waters in Bermuda zipping along with a prototype of those wings flying faster than jet engines.