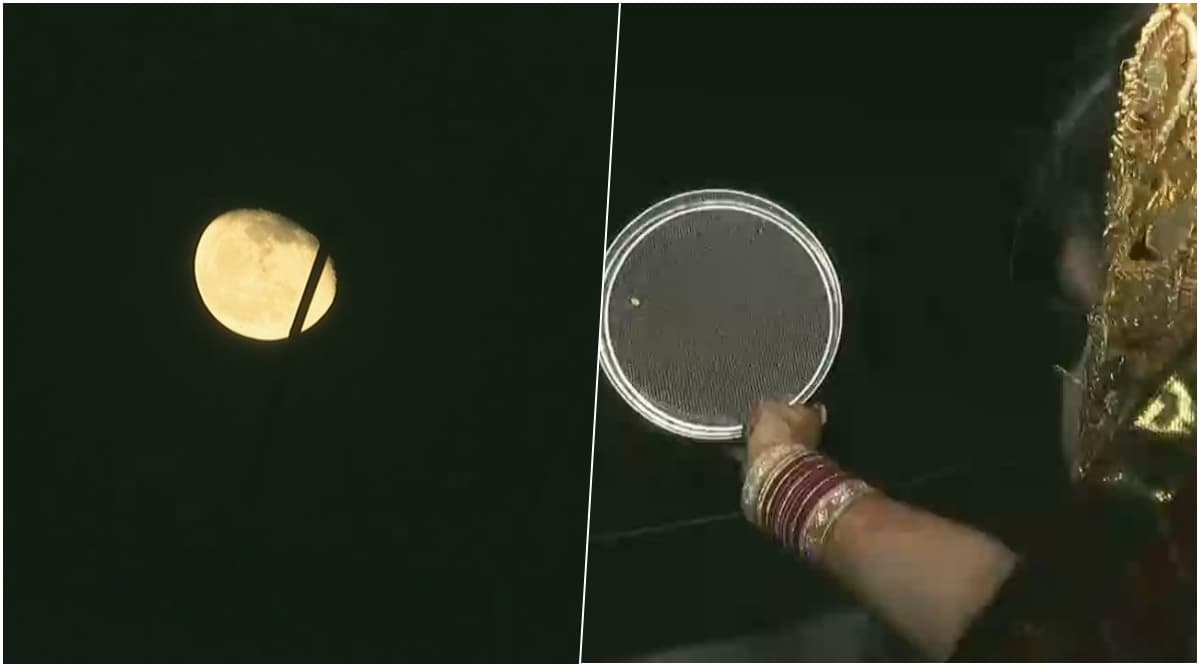 A very important festive occasion of Karwa Chauth 2019 is being marked in the country. On this day married women keep a day-long strict fast praying for their husband's long life and prosperity. The Karva Chauth Vrat is only broken after sighting the moon. Women perform puja of the Moon God, look at it through a sieve then look at their husband and then break the fast. As a lot of women waited for the moon to rise, soon after the first glimpses, pictures and wishes of Karwa Chauth started coming up on the internet. Happy Karwa Chauth messages and greetings are being shared online. Karwa Chauth 2019 Moon Sighting: How to Break the Fast If Chandrama Is Not Visible on Karva Chauth? (Watch Video).
This day is a festive celebration which honours and strengthens the bond between a husband and wife. In some places, even a husband keeps a fast for his wife in return. Women dress up, put mehendi, adorn jewellery before performing the puja. They observe a nirjala fast which means without having water and food. While breaking the fast, husbands offer a morsel of food and water to their wives. They also give some gift to the wife and thank her for observing this fast. Happy Karva Chauth 2019 Wishes For Daughter-In-Law: WhatsApp Messages, Images, Greetings, Facebook Photos & SMS to Send to Your Bahu For Karwa Chauth Vrat.
Here Are Some Earliest Pictures of Moonrise on Karwa Chauth 2019:
Celebrations in Assam
Guwahati (Assam): Women break their fast on sighting of the moon. #KarwaChauth pic.twitter.com/e1kzZBwg2a

— ANI (@ANI) October 17, 2019
#KarwaChauth #arunachalpradesh pic.twitter.com/4uFrSUBNUS

— Selenophile☯ (@Bekar_ladka) October 17, 2019
Dekho Chand aayaaaaaaa.....Chand nazar aayaaaa #karvachauth pic.twitter.com/HCBPUDrfxs

— Prerna (@miss_cherished) October 17, 2019
We are sure all fasting women would be relieved to have spotted the moon tonight. This festival is observed mostly in North Indian states like Rajasthan, Himachal Pradesh, some parts of Uttar Pradesh, Haryana, and Punjab but nowadays, the festival is observed all over the country.