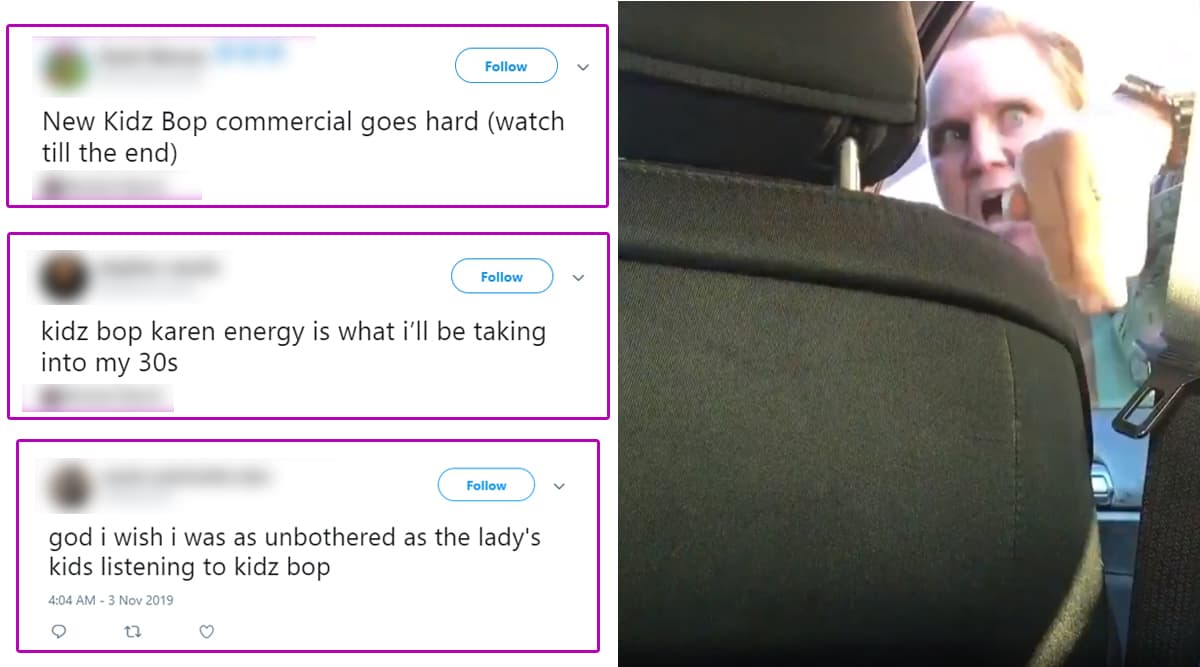 To those who recently saw 'Kidz Bop' trending on Twitter, here is some briefing for you. Kidz Bop is a brand that features albums of children singing contemporary popular songs. The franchise has sold above 16 million albums and is hugely famous among kids. Over the weekend, Twitter saw #KidzBop surfacing on its platform with most people being confused, considering the brand has been around for decades. But after watching the video accompanying to Kidz Bop, netizens have understood why the tweets are going viral. It shows an angry woman ranting at a cab driver and his passenger in the middle of the street in New York, mentioning Kidz Bop at one point.  The viral video has inspired some hilarious memes. Apple AirPods Pro Funny Memes Are Here! New Product Gets Compared to Pokemon, Cartoons, Game Characters, Blow Dryers and What Not. 
The video was reportedly posted on Instagram at first by a woman named Chelsea. The clip shows a lady dubbed "Karen" who got out of her car in the bustling streets of NYC to scream at the cab driver for cutting her off. The driver readily admitted his fault and apologised to her. But Karen puts her head in through the open passenger window and proceeds to curse the woman Chelsea sitting on the backseat. 'Was Invented in…' Memes Are Getting Funnier! Hilarious Tweets Explaining How Life Used to Be Before Inventions Go Crazy Viral. 
Karen confirms the driver that is was his fault for the incident. "And you know what, that didn't upset me. But the b***h a** h** that told me to calm down," she continues to yell, wagging her finger. "What I'd like you to do is apologise instead of being a b***h." Chelsea responds, "Sorry but you're calling me a b***h, let's set an example," pointing at her kids who might hear, as the window car was open. But Karen said it is impossible. "They can't hear me because they're listening to Kidz Bop," she says.
Watch the Video Here:
New Kidz Bop commercial goes hard (watch till the end) pic.twitter.com/degqOwzhDX

— Dank Memes 💎💎💎 (@FreeMemesYall) November 3, 2019
This How A New Internet Meme Was Born:
god i wish i was as unbothered as the lady's kids listening to kidz bop

— marie antoinette stan (@fatbby420) November 3, 2019
Is It?
I'm fully convinced Kids Bop Karen is out of a horror movie. pic.twitter.com/nb4KlOsfwI

— Happy Hollydays (@hollaflower) November 3, 2019
Everyone Should!
kidz bop karen energy is what i'll be taking into my 30s pic.twitter.com/UamHV8QHq8

— stephen ossola (@stephenossola) November 2, 2019
Laughing Out Loud:
Studies have suggested that these are the stages of parents listening to Kidz Bop for prolonged periods. Knowing the stages is half the battle. pic.twitter.com/Y2S870Lkei

— Christopher Sharpe (@DrCSharpe) November 3, 2019
Almost Everyone's Reaction:
When your meant to be listening to Kidz Bop but you hear your mum going off on someone other than you.#AngryKaren #KidzBopKaren #kidzbop

— David Grimmett (@TheDGrimmett) November 3, 2019
Similar to  AirPods Memes:
can't hear you cuz i'm listening to kidz bop pic.twitter.com/xxhqgYMb0E

— cool. (@slothsnmoths) November 3, 2019
Most of the memes are centred on the kids who are seated in the care, unaware of their moms ranting out at a stranger. The main video featuring "Karen" – a generic name given to any woman who gets unhappy when things don't go their way – has been watched over 14 million times. The count is still on and so are the memes.