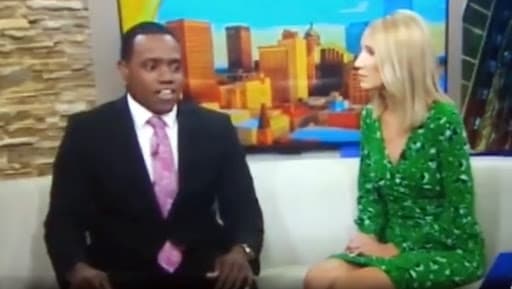 Washington, August 28: A news anchor has recently apologised after she told her black co-anchor that a baby gorilla "kind of looked like him" while they were hosting a news segment. Anchor Alex Housden from the KOCO 5 News in Oklahoma City made these racist and offending remarks at a segment about an ape whose handler was running the local zoo's Instagram for the day. Bird Lands on News Anchor's Head During Live Broadcast, Reminds us of These Videos Where News Presentators Remained Calm.
In the apology video, Alex said on-air that she wanted to apologise not only to Jason Hackett, her colleague but also to the entire community. She said, "I said something yesterday that was inconsiderate, it was inappropriate, and I hurt people," she said while crying. And I want you to know I understand how much I hurt you out there and how much I hurt you."
Watch the apology video here:
White TV anchor Alex Housden apologizes on air for saying her black KOCO TV co-anchor, Jason Hackett, looks like a gorilla at the Oklahoma City Zoo.pic.twitter.com/4N1BBs8o4K

— Keith Boykin (@keithboykin) August 27, 2019
Hackett accepted her apology but went on to say that the country's demographics are changing and there is no excuse not to be aware of the kind of comments that can be hurtful to minorities.
According to NBC News report, he was quoted saying, "We have to understand the stereotypes, we have to understand each other's background and the words that hurt," he said. "The words that cut deep. And we have to find a way to replace those words with love and words of affirmation as well." Her comments didn't go down well with the followers of the channel and inspite of Alex Housden's apology, she was criticised severely on social media.