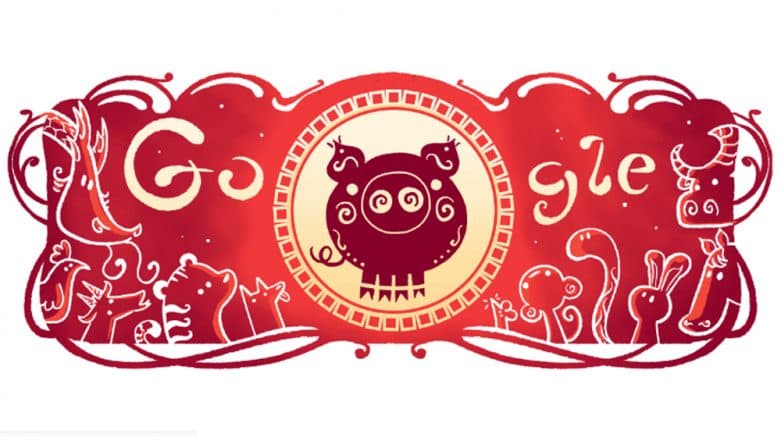 February 5 marks the beginning of the Chinese New Year 2019. The Lunar New year which follows the moon calendar has no fixed date for the beginning of the new year. Also called the Spring Festival, this year is the year of the pig. Search giant Google which makes a doodle for every important event has unveiled its doodle for the Chinese New Year 2019. Featuring a pig in a small GIF, it signifies the beginning of the year of the pig 2019. The Lunar new year is marked not only in China but also other countries like Singapore, Indonesia, Malaysia, Thailand, Cambodia and the Philippines. Chinese New Year 2019 Greetings in Mandarin: Best CNY WhatsApp Stickers, Wishes, GIF Images, Quotes and Pig Emojis to Wish Happy Chinese New Year.
The welcoming of the Lunar New Year goes on for 2 weeks and is marked with a lantern festival. The first day of Chinese New Year starts with a new moon so on February 5 this year, the new year will begin. It is a major holiday in China that goes on for a week. It is also the longest Chinese holiday as the Spring Festival lasts for 16 days. There is a beautiful firework display, parades and scrumptious menu to mark the new beginning. There is a carnival-like atmosphere in most areas which ring in the Lunar New Year. Chinese communities in the UK also have elaborate celebrations for this day. How to Wish Happy Chinese New Year 2019 in Chinese? 'Gung Hay Fat Choy' & Other Greetings, Wishes and Messages in Cantonese and Mandarin.
The pig is the last of the 12 zodiac animals followed by this astrology. According to the Chinese zodiac, people who are born in the same animal year share similar traits. People born in the years 1923, 1935, 1947, 1959, 1971, 1983, 1995, 2007, 2019 and 2031 fall under the Year of the Pig.