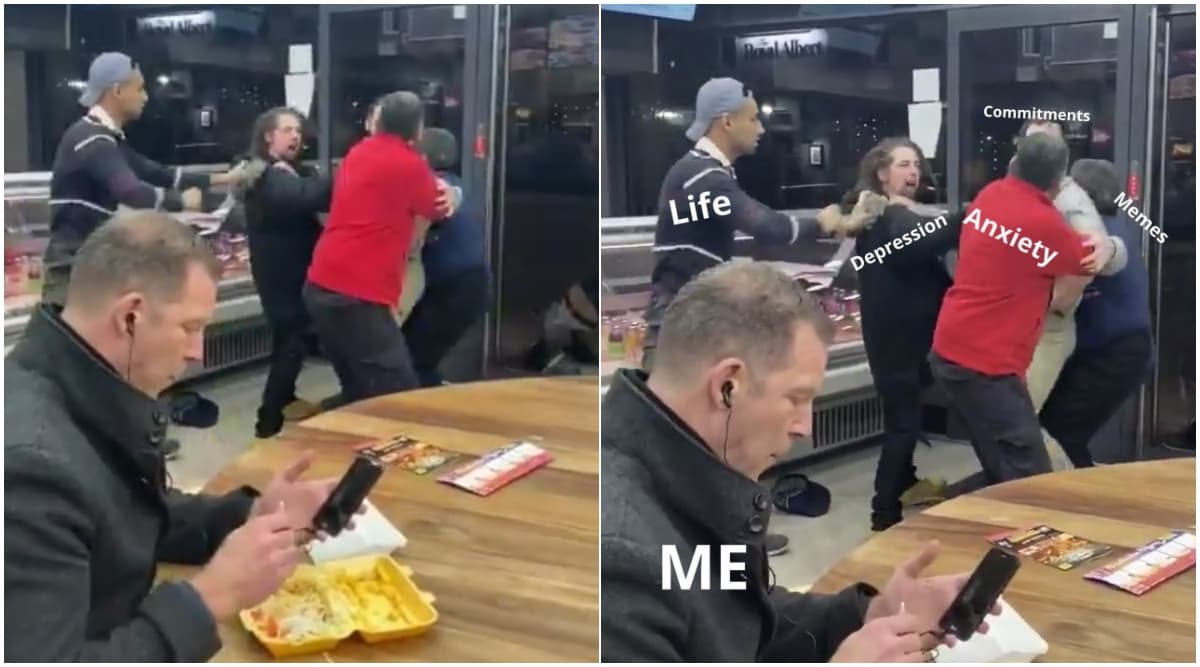 Imagine sitting in a shop enjoying your meal and there emerges total chaos around you, with people getting into fistfights and a brawl, you'd be distracted right? But an elderly man did not let the mass brawl bother him while he ate his chips at a Kebab shop in Portsmouth, UK. The entire situation was caught on video and people are loving the calm reaction of this man. He continuing to eat his chips, unbothered by the situation made him into an internet sensation and some even went ahead to make funny memes and jokes on him. Dog With Protest Signs is New Version of Viral 'Dude With Sign' Memes and Jokes (Check Funny Pics).
The incident took place at Ken's Kebabs shop on January 10 where a man identified as Chris Hill was having chips. Soon, the staff member got into a brawl with some customers. Things were thrown across the counter, graduating to fistfights. The group even crashed onto a table where the fight continued. Hill who sat right there throughout this drama just watched along and continued to eat his chips. The video of this brawl was shared on Twitter and it is going viral with almost 14 million views! But it is Chriss Hill's reaction that is the total vibe of this video for many. Black Friday 2019 Fights! Videos of Brawls Among Shoppers Surface Online And Netizens Are Up For The 'Entertainment'.
Check The Viral Video Here:
Wow fight In kens kebab pic.twitter.com/WcvGgE2kqY

— Beth Deakin✨ (@xbethdeakin) January 11, 2020
Loving His Reaction
Really don't know what to make of this guy's reaction.

"Oh well, best not get involved. I'm just here for my dinner" pic.twitter.com/5a1N415Hn0

— Darlington Daniel (@darlingTdaniel) January 12, 2020
This guy minding his own business 🤣😂 pic.twitter.com/7GkY8oxgHn

— Ash (@ash_vm) January 11, 2020
Funny Memes Followed
— 𝗔𝗟𝗕𝗬 ✌🏻 (@ALBY_LAD) January 11, 2020
— Jessica Knapik ✨ (@JessicaKnapik) January 12, 2020
Priorities
Dude just kept eating pic.twitter.com/uzOw6d5bPP

— Tolete (@kevintwists) January 11, 2020
He's Paid For It
this man paid for his food, you really think he gonna move 😂😂😂 pic.twitter.com/3HDlYPhi5p

— Angelo (@Smittcmd) January 12, 2020
Inspiring Others
How I'm minding my business in 2020 pic.twitter.com/3nTKsWBOPV

— Jae Byrd (@jaeseabeans) January 12, 2020
The Value of Food
This guy knows how to value the most important things in life. pic.twitter.com/ENUCKncnnK

— هارون الثالث 🌛 (@Im__McCoy) January 12, 2020
What a Hero
The two hero's that no one will ever mention, respect to these two for a complete lack of worry and harm that they could have received. Heroes are rare and always respected ✊🏻 pic.twitter.com/gwbkVao98z

— Ted 🛎🔚 (@Gingerted1) January 11, 2020
Chris Hill was quoted to The Daily Mail, "I thought about moving at one point but I was enjoying my kebab and chips... although the chips weren't very nice." Clearly his calmness has won over the internet, wherein no one wants to know about the fight or what had happened.