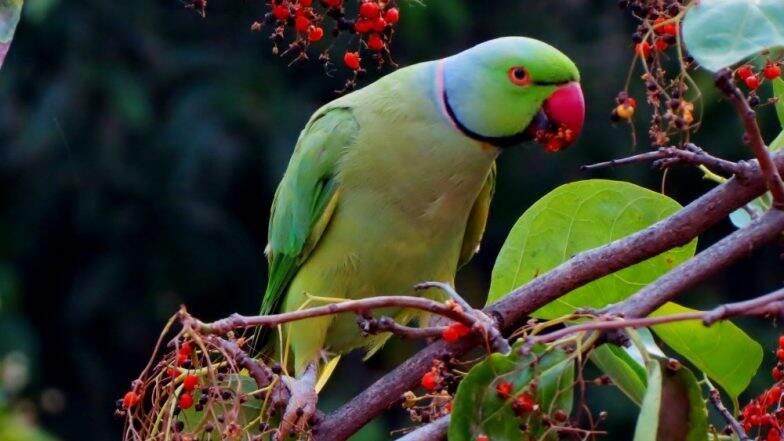 Parrots are the latest among birds to get high! After an island full of drunk seagulls were rescued last year in England, opium-addicted birds were recently found in India. The farmers in Madhya Pradesh are tired of parrots destroying their harvest. They said these parrots could cause them huge damage. These farmers have tried different ways to scare the birds, but in vain. They even used loudspeakers and also asked for help from local authorities, however, nothing fruitful has yet happened.
The farmers have a license to grow the plant and supply it to medicinal companies. But this year's they may incur heavy losses, especially with scanty rainfall. Nandkishore, an opium cultivator told NDTV, "One poppy flower gives around 20-25 grams of opium. But a large group of parrots feed on these plants around 30-40 times a day and some even fly away with poppy pods. This affects the produce." New Zealand Votes 'Tipsy' Pigeon Bird of the Year
Check out the pictures here:
Neemuch: Opium farmers complain that the parrots in the area have been destroying their crops;a farmer says,"we beat drums & burst firecrackers to scare them away. We keep a watch on them in night as well. Don't know if they've got addicted to it or something else".#MadhyaPradesh pic.twitter.com/Z3G4Z3oxWF

— ANI (@ANI) February 25, 2019
Watch the video here:
#WATCH: Parakeets destroy opium crops in Neemuch, Madhya Pradesh pic.twitter.com/nURIGDoraL

— ANI (@ANI) February 25, 2019
These drug addicted parrots have become a pure nuisance for the farmers. They have to look after the plants throughout the day and night. The farmer added saying, "We have tried making loud sounds and even use firecrackers to scare the birds. But nothing has helped." According to a DNA article, opium farmers in Chittorgarh and Pratapgarh districts of Rajasthan faced a similar problem last year.
They used to completely destroy the pod, sip the opium milk and nibble on the pod. Madhya Pradesh is the largest producer of opium in India followed by Rajasthan. It is purchased by the Central Narcotics Bureau for the medical industry.