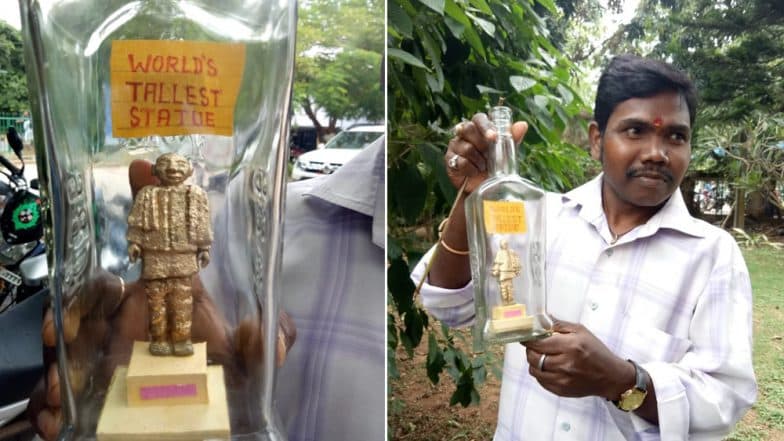 Bhubaneshwar, October 31: There is all the excitement around the inauguration of the Statue of Unity of Sardar Vallabhbhai Patel in Gujarat today. Prime Minister Narendra Modi has already unveiled the tallest statue in the world at Kevadiya in Gujarat. But while people gawk at the tallest structure, a miniature version of the statue, that fits into the bottle is also ready. A miniature artist L Eswar Rao from Jatni in Bhubaneshwar, Odisha has made a miniature model of Statue of Unity, that fits into a bottle. Statue of Unity Unveiling by Narendra Modi Live News Updates. 
The making of the miniature carving of the statue took him about three days to make. As a mark of offering tribute to the great national leader, Eswar Rao made the miniature creation. He also wanted to showcase his talent and give the message of unity and respect. This statue is made using soap and he has carefully carved it to match the tall statue that is being inaugurated today. The statue measures 3.5 inch.
Take a Look at the Pictures of Miniature Statue of Sardar Vallabhbhai Patel in a Bottle:
Odisha: L Eswar Rao, a miniature artist from Bhubaneswar's Jatni, made a miniature model of Sardar Vallabhbhai Patel's #StatueOfUnity; said it took him three days to make it. #RashtriyaEktaDiwas pic.twitter.com/l7wI90QAPb

— ANI (@ANI) October 31, 2018
The statue at Sadhu bet Island in Gujarat is spread across an area of 20,000 square meters. The estimated cost of building the entire structure came up to Rs 2,989 crore.
Watch Video About Some Facts of The Statue of Unity of Sardar Vallabhbhai Patel
The Statue of Unity other than being the tallest in the world, is also the quickest to be made, in a span of 33 months. So the 182-metre high structure is also a work of mastery of the engineers who worked on developing it.