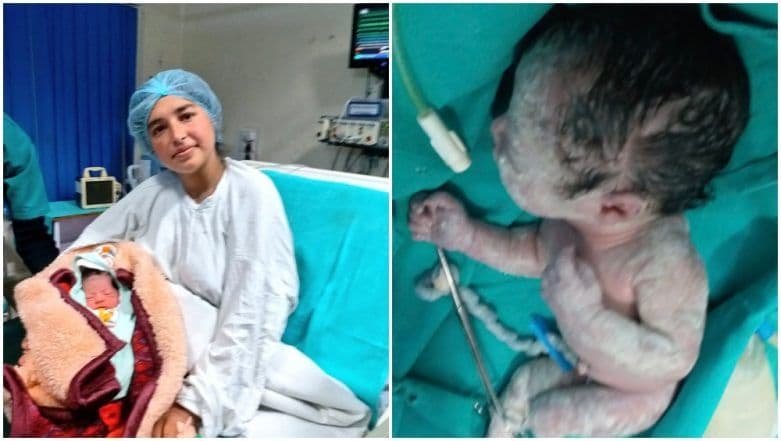 New Delhi, February 12: Amid escalating tensions in Jammu and Kashmir over the Sunjuwan Army camp attack, there is some positive news! A pregnant woman, who was shot in her lower back by four terrorists delivered a baby girl on Sunday. As per reports, the lady is an army soldier's wife and was severely injured in gunfire when terrorists entered the family quarters of the Brigade Army camp in the Sunjuwan area of Jammu.
Defence spokesman Lt Col Devender Anand was quoted by Hindustan Times saying that the Army doctors worked through the night to save the lives of the severely injured pregnant lady with gunshot wounds and through a Caesarean section, delivered a baby girl.
As per details by an Army Official, Rifleman Nazir Ahmed Khan and his 28-week pregnant wife, Shahzada Khan, 24 were shifted to the military hospital in the cantonment area where she delivered the baby. Twitterati shared a picture of the baby girl on the social networking sites, terming the baby girl as a 'miracle baby' and the incident as no less than a miracle.
Army doctors saved life of a pregnant lady injured in terror attack on #SunjwanArmyCamp, she delivered a baby girl through c-section last night; lady says, 'I am very thankful to them for saving me and my baby' pic.twitter.com/iOSwLhsnrv

— ANI (@ANI) February 11, 2018
A story of a miracle from today's #SunjuwanAttack

A 35 week pregnant lady shot in the lower back was evacuated by chopper to the military hospital and immediate C section was performed. Baby girl weighing 2.5 kgs delivered. Mother and child both are safe. pic.twitter.com/Z5LSfAFDWm

— kaveri (@ikaveri) February 10, 2018
The pregnant woman who was severely injured was immediately evacuated by an Army chopper. She was rushed to a military hospital where a C-section was performed on her. As per details by the doctor, the mother and the baby were completely healthy. With the help of the Indian Army, the woman is stable and healthy at the Military Hospital, Satwari.
Amid the gloom and terror, take a look at Kashmir's miracle baby:
A group of heavily armed Jaish-e-Mohammed (JeM) terrorists struck the camp of the 36 brigade of Jammu and Kashmir Light Infantry in the early hours on Saturday. The death toll in the attack reached nine with the death of five more security personnel and one civilian. It has also left 10 people injured, of which 6 are women and children.
Three more soldiers and a civilian were found dead inside the residential quarters at Sunjuwan Military Station on Sunday, taking the toll in the terrorist attack on the Army camp to six. The terrorists were believed to be from the 'Afzal Guru squad' of JeM. Some AK-47 assault rifles and other weapons were also recovered from the slain terrorists.