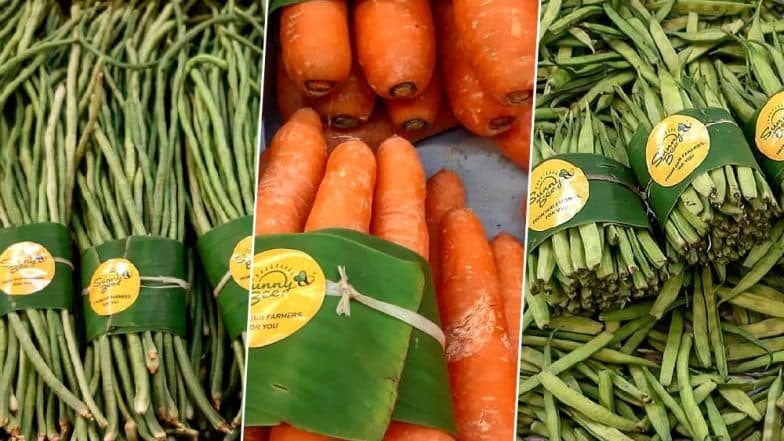 The dangers of plastics have been documented enough but there are not many solutions served as much as there are problems. Several times there have been imposed bans on plastic bags but it hasn't lasted that long. About a  week ago, a post from Thailand's supermarket shops using banana leaves for packaging instead of plastic went viral. While the rest of the world lauded at the concept, a supermarket store called SunnyBee in Chennai decided to adopt it too. They have successfully set up an eco-friendly way to pack their veggies, by tying them in banana leaves.
Sanjay Dasari, the founder of the retail chain told The Hindu, "We tried a variety of leaves before zeroing in on banana ones, as packaging material. They are soft, they contain moisture that helps keep other produce fresh, and they're easy to wrap with. It also helps that they look really pretty." He mentioned that he got the idea from the Thailand store itself. A lot of their customers sent them messages and tagged them in the posts about the Thailand stores. The company decided to adopt the idea soon. Eliminate Single-Use Plastics! Boat Made of Plastic Collected From Kenyan Beaches Sets Out on Voyage to Spread Message.
Check Pics of Vegetables Wrapped in Banana Leaves at Chennai Store:
View this post on Instagram
Just as the previous initiative won all hearts, SunnyBee too is receiving great compliments for their adaptation. The customer feedback is welcoming of this eco-friendly packaging. They get the banana leaves from the same farmers who supply them the banana produce. The part and strips of the leaves which initially went into waste is now being used for packaging. Currently, the initiative is restricted to two SunnyBee outlets in Chennai — Palavakkam and Sholinganallur. But Sanjay assured they are working out on ways to expand it. It is indeed a lovely initiative and other supermarkets should also follow this example and make the much-needed change.