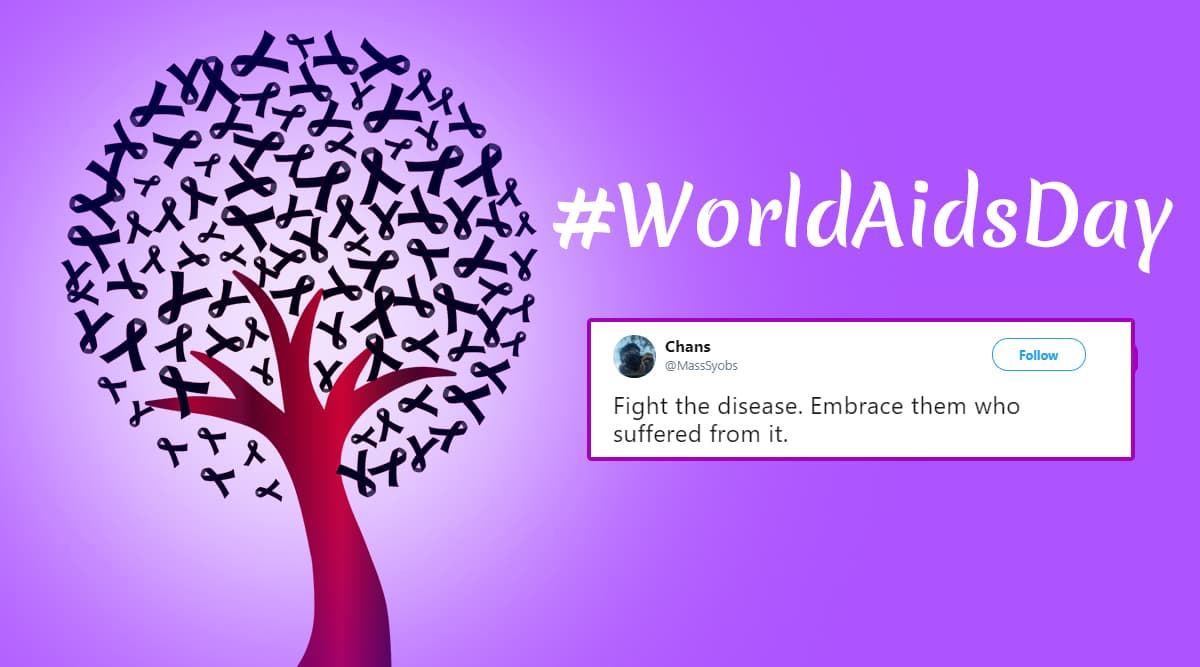 December 1 marks a very important observance of World Aids Day. The main motto behind celebrating the day is to raise awareness among the public about AIDS and also put an end to the stigma around people suffering from this disease. Acquired Immuno Deficiency Syndrome (AIDS) is a pandemic disease caused due to an HIV virus. This day aims to draw attention to those people and families affected by HIV and give them the support that they usually lack. On World Aids Day 2019, netizens are posting messages to draw attention to the importance of this day. #WorldAidsDay is thus among a top trend on Twitter today and people are posting images, messages and quotes to spread the word on social media. World AIDS Day 2019: How to Stop HIV from Progressing To AIDS?
World Aids Day 2019 has been observed since the year 1988 and it is one of the eight official global health campaigns. This year's theme of World AIDS Day 2019 is 'Ending the HIV/AIDS Epidemic: Community by Community'. As per the recent estimate by World Health Organisation, "37.9 million people living with HIV at the end of 2018, 79 percent received testing, 62 percent received treatment, and 53 percent had achieved suppression of the HIV virus with reduced risk of infecting others." Although the number of those infected has increased, due to better treatment, the death rate from the epidemic has decreased. But, the stigma around those suffering from AIDS is still very much prevalent. Netizens are sharing messages and quotes, drawing attention to the same. World AIDS Day 2019: Facts about HIV That Will Totally Shock You.
Check Some Tweets on World Aids Day:
Give Empathy
"You can sit and sulk or do something about it. People Living with HIV (PLHIV) don't expect sympathy. What they need is empathy. Behind the disease is a real person."#WorldAIDSDay #communitiesmakethedifference https://t.co/wj59pt1SyP

— All Women's Action Society (@AWAMMalaysia) December 1, 2019
Remember The Lives Lost
1 hour before we celebrate #WorldAIDSDay , Let's remember and say a prayer for our brothers who have lost their lives because of the disease. For us survivors, let's keep our morale high and hope that one day AIDS is just one of those curable disease. #WorldAIDSDay2019 pic.twitter.com/wFQXRVfZjF

— PoZitalopramRN➕🔴 (@PozZitRN) November 30, 2019
Three Wishes For Aids Day
Today the 1st of December marks World AIDS Day. If genies exist I have three wishes- patients cured, no more cases and that awful thing called STIGMA ends! #WorldAIDSDay #WAD2019 pic.twitter.com/2AKYyNQeX6

— Dr. Gia Sison (@giasison) December 1, 2019
End Stigma!
Something that is often lost in Matthew's story is that he was HIV+ at the time of his murder. Tomorrow is World AIDS Day. We cannot erase hate until we end stigma for those living with HIV. #WorldAIDSDay #EraseHate pic.twitter.com/zZ4Kb5TKMO

— Matthew Shepard Foundation (@MattShepardFDN) November 30, 2019
It's Not a Death Sentence
Stop the stigma

AIDS today is not a death sentence#WorldAidsDay pic.twitter.com/kpCJYIn8l8

— Zaplon Tech (@zaplontech) December 1, 2019
We stand with all people living with or affected by HIV and remember those who have died from AIDS-related illnesses. Also dont forget to use condoms #WorldAIDSDay

— akim (@mdluqmnurhakim) December 1, 2019
Fight and Embrace
Fight the disease. Embrace them who suffered from it.#WorldAIDSDay pic.twitter.com/qiP8Vn1do7

— Chans (@MassSyobs) December 1, 2019
Show Support
Time to raise awareness for HIV and to also show support to those people who suffer from HIV

#WorldAIDSDay pic.twitter.com/R1S7DMqBwm

— Manasa (@NameisManasa) December 1, 2019
Many people still are very much unaware about what causes HIV, what spreads it and those who are suffering are often looked down up. Many times, those infected experience social rejection and are discriminated against. So many people who are suffering from the disease do not even reveal their status as they fear all the stigma and discrimination. World Aids Day aims to drive all these away and offer more support and create awareness about those suffering.