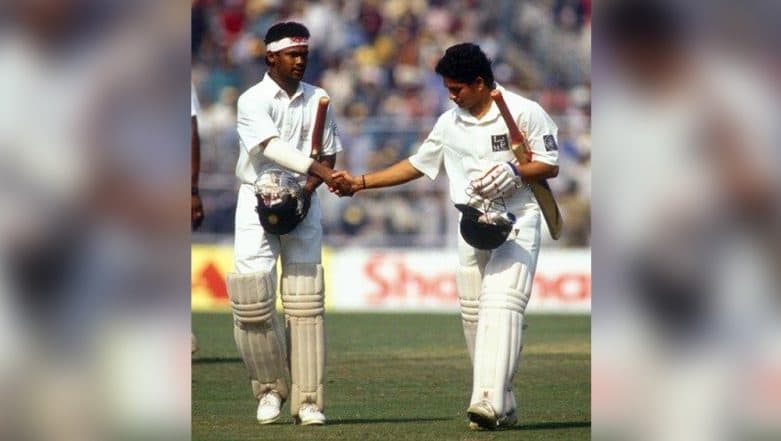 Right after the epic ICC Cricket World Cup 2019 finals at the Lord's cricket stadium between New Zealand and England, the super-over rule drafted by the International Cricket Council has come under the scanner. Just after the finals of the CWC 2019, the likes of Rohit Sharma had called for the revival of the same. Now, Sachin Tendulkar and Vinod Kambli also took a sly dig at the ICC for the super over in a video while promoting their app No Boundaries. The video was posted on social media. Ahead of Friendship Day 2019, Sachin Tendulkar and Vinod Kambli Share Their Childhood Photo and Memories on Twitter.
So here's exactly what happened. On the occasion of Friendship Day, the two were seen competing against each other as they played the game of cricket on their mobile. The match ended with a tie and Kambli was heard saying, "Do we have super overs here?" Sachin replied to him saying, "There is no super over in this game, because friendship has No Boundaries." Both busted out laughing and Sachin concluded the video by saying, "Samajhne wale ko ishara kafi hai." Check out the whole video below:
Happy #FriendshipDay guys... always remember that there are 'No boundaries' in friendship! 😉@vinodkambli349 pic.twitter.com/qe6hT7Y7lx

— Sachin Tendulkar (@sachin_rt) August 4, 2019
Yesterday Sachin and Kambli posted a throwback picture from the school times and walked down the memory line celebrating their bond over the years. We all know that the two are childhood friends and played together on the same team since their school days. The two even went on to represent India together. Their bond and friendship are known by all and people even cite examples of the duo when it comes to friends in cricket.