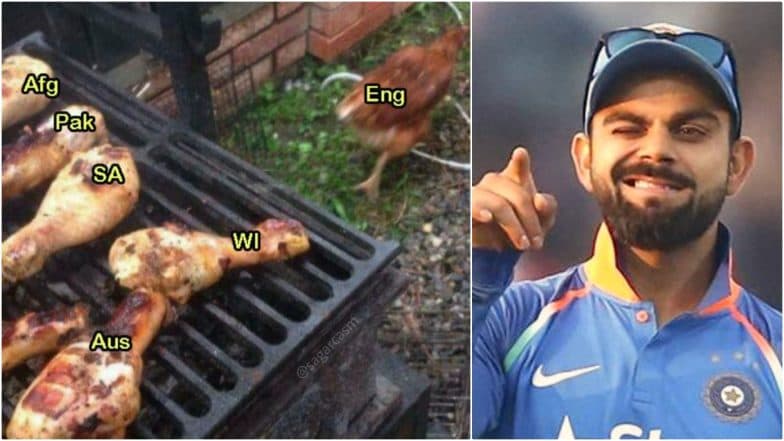 The upcoming India vs England match in ICC Cricket World Cup 2019 can be termed as one of the unique matches in the history of cricket, as the Indian team has the support of fans of some others teams too. The Virat Kohli-led side will take on the Eoin Morgan-led team on June 30 in the ongoing World Cup 2019. Other than Indian fans, people from Pakistan, Sri Lanka and Bangladesh too will hope for the Indian side to emerge as winners in the clash, as it will benefit their home team's chances of entering semi-finals of World Cup 2019.  Indian Team Enjoys Golden Period in Cricket, Virat Kohli-Led Side Holds Multiple No. 1 Spots In ICC Rankings & Remains Unbeaten in CWC 2019
If England wins its remaining two matches against India and New Zealand, then Pakistan, Bangladesh and Sri Lanka's dreams of reaching the semi-finals of World Cup 2019 will be ruined. As a result, India's neighbours want Virat Kohli and company to defeat the English side. Many memes on this complex scenario of the World Cup 2019 India vs England match are going viral on social media.  A trend titled #INDvENG is also trending on Twitter. Here are some of the funny tweets.
Winner Winner Chicken Dinner
Team India grilling everyone in this Worldcup. #IndvEng pic.twitter.com/AT9GSKS9EW

— Sagar (@sagarcasm) June 29, 2019
Secret Superstars
The Secret Of #TeamIndia's success.#INDvENG pic.twitter.com/Kz1uMQckZh

— God ❁ (@TheGodWhispers) June 28, 2019
Heart Attack for Pak
Looks like one more surgical strike to Pakistan Fan

😜 #INDvENG pic.twitter.com/00NfG5idcu

— Fantasy Straight Drive (@Sports2244) June 29, 2019
Don't worry Sarfaraz
When you realize you have to play Afghanistan next match and they dint play 1992 World Cup

Sarfaraz Ghabrana nahi hain 😜

#INDvENG #PAKvAFG pic.twitter.com/b6FWJyg13K

— blinkorshrink (@Blinkorshrink) June 29, 2019
A win-win situation for India
If India win they will qualify for semifinal

If they lose pakistan will be out of world cup

INDIANS:- pic.twitter.com/hZ6GffKV6j

— Bhavya Dhamija (@BhavyaDhamija1) June 29, 2019
Tough journey for England?
next three matches of England#AUSvENG #NZvENG #INDvENG pic.twitter.com/TOdy8u1Tq9

— being.skt (@being_skt) June 25, 2019
England not red-hot favourites now
"England is the favourite in this World Cup..

The strongest competitor of World Cup 2019"#ENGvAUS #INDvENG pic.twitter.com/ssdxVxORWo

— Deb-Raj (@Bong_Demon) June 25, 2019
England, Bangladesh, Pakistan and Sri Lanka have played seven matches in World Cup 2019 each and will be playing two more matches in the tournament. England holds the fourth position with 8 points and faces tough competition from these three Asian teams for the fourth spot on the points table, which will ensure a World Cup 2019 semi-final berth for the team who grabs it at the end.
Bangladesh and Pakistan have seven points in World Cup 2019 and hold 5th and 6th position respectively. Both of them can only make their way to finals if England loses at least one of its rest two matches. If England loses to India in their very next game, these two teams will have the chance to outclass the hosts from semis by reaching 11 points after winning their next two matches. Even Sri Lanka with 6 points at present can only make a way to semis if England loses at least one match.
Since India is the only unbeaten team in the tournament so far and also looks the strongest of all at present, the fans of these three Asian nations want India to defeat England during their clash at Edgbaston, Birmingham, knocking the hosts out of semis race.