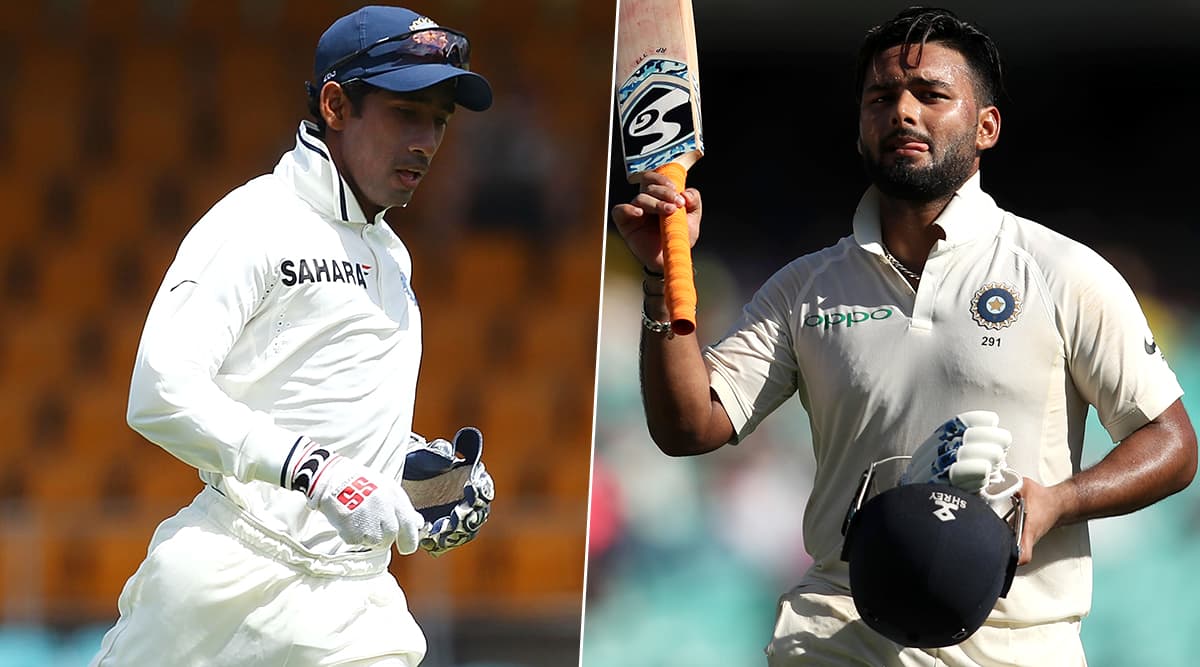 Wriddhiman Saha took a stunning catch on Day 4 of the 2nd Test against South Africa to get Proteas batsman Theunis de Bruyn dismissed on eight runs. The ball was bowled by Umesh Yadav and Saha took a flying superman catch behind the wicket which grabbed attention. India has won the 2nd Test by an inning and 137 runs. Meanwhile, fans have trolled Rishabh Pant for Wriddhiman Saha's catch behind stumps to dismiss de Bruyn which was one of the major wickets for India. India vs South Africa Stat Highlights, 2nd Test 2019: Virat Kohli Ascend New Heights As Captain; Hosts Seal Series with Innings Victory.
Rishabh Pant wasn't included in the playing XI in both the Test matches played against South Africa. Pant did not perform well in the two-match Test series against West Indies in August 2019. Pant entry in the team has become also more difficult after Sanju Samson double hundred in Vijay Hazare Trophy. Umesh Yadav Thanks Wriddhiman Saha For His Wickets After India Seal Test Series With Massive Victory in 2nd Match.
Pant Should Start Preparing For PO Exam 
Rishabh Pant should start preparing for Bank PO exams.

— Gabbbar (@GabbbarSingh) October 13, 2019
Saha is Exceptional 
Dhayavusenju test cricket la Rishabh Pant topic edukadheenga! In test cricket, you need the best keepers & Saha is simply exceptional & a legend in his own right, and for his sheer class, deserves to play until he decides by himself to retire. TRULY WORLD CLASS! ⭐⭐⭐⭐⭐

— Srini Mama (@SriniMaama16) October 13, 2019
Rishabh Pant Reaction After Saha's Catch 
Rishabh pant after watching Saha and Samson's performance😆😅 pic.twitter.com/i7PiJimXm5

— Rahul Koyalkar™ (@koyalkar_77) October 13, 2019
Rishabh Pant Heartbeat Beating Faster 
Rishabh pant right now 👇👇😂 pic.twitter.com/qboPkKjfzB

— Fan and 127 others (@Khantastic_) October 13, 2019
Rishabh Pant & His Fan Shocking Reaction After Saha's Brilliant Take 
Rishabh Pant & his fan after watching saha's great catches & samson's double 100 pic.twitter.com/XljQkDpHwK

cc @Arun_SRKian 😂 #indvsa

— Just a Fan (@iemRahul_) October 13, 2019
India has now won 11th home series in a row. Virat Kohli got awarded for his unbeaten knock of 254 runs and this was also his 50th Test Match as captain. India will now play the 3rd Test against South Africa on Oct 19, 2019, at Ranchi.