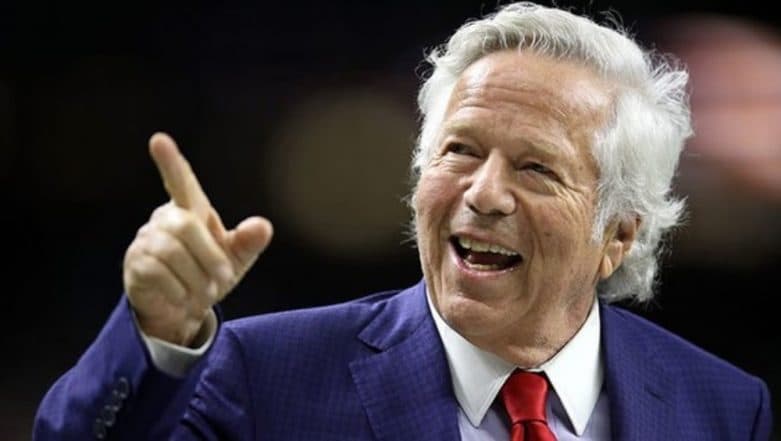 The owner of Super Bowl team New England Patriots Bob Kraft has been charged with prostitution in the recent law enforcement on massage parlous in Florida. In the press conference held today in the morning, Jupiter Police chief Daniel Kerr confirmed the news and said that there was video evidence of Kraft being involved into prostitution. Cops say the name of the establishment that Kraft visited is Orchids of Asia Day Spa in Jupiter. The police further stated that the parlours were used for prostitution, and that many of the women involved were considered to be victims. Adam Levine's Nipple-Baring Performance at Super Bowl LIII Creates Uproar, Gets Compared to Janet Jackson's Career-Ending 'Wardrobe Malfunction' (Watch Video).
The officer also informed that Kraft was driven by the chauffeur to the spa and the average cost per visit was $59-$79 per hour. A warrant will be sent to Kraft's home in Massachusetts. Accused of a misdemeanour, Kraft will have to appear in the court and has not yet been arrested. It roughly took eight months for the police and the officials informed that they've identified more than 100 men suspected of being "Johns." As per the detectives, women from China lived in the spa and were not allowed to leave. As per reports, the police also found napkins coated in seminal fluid in a trash receptacle outside the spa on more than one occasion.
A spokesman for Kraft and the Patriots released a statement, saying, "We categorically deny that Mr. Kraft engaged in any illegal activity. Because it is a judicial matter, we will not be commenting further." Kraft has owned the Patriots since 1994. The team has been the most successful in the N.F.L. since then, and won its sixth Super Bowl title this month. He bought the Patriots in 1994 for $172 million as per Forbes.