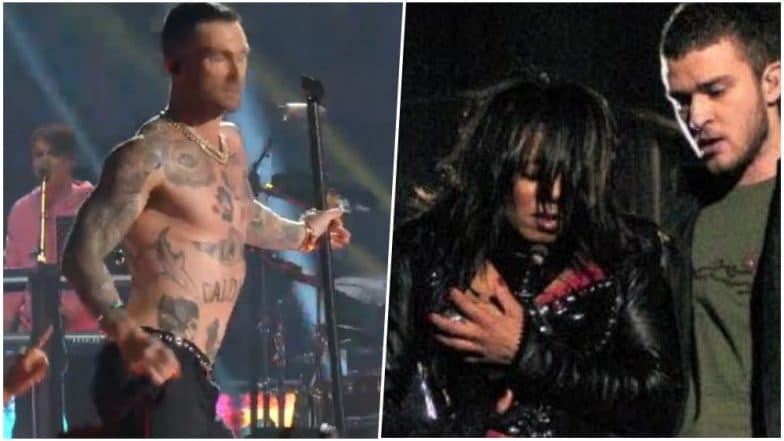 Maroon 5 frontman Adam Levine has pulled a 'Janet Jackson' after his nipples stole the show at Bowl LIII at Georgia. Levine stripped down to his pants in the middle of the performance at halftime, exposing his heavily-tattooed chest to the crowd. Many angry fans of Janet Jackson were quick to point out that Levine's bare-chested performance wasn't as heavily criticised as the diva's 2004 debacle at the same stage. During a performance with Justin Timberlake on the song "Rock Your Body," Jackson suffered a career-ending "wardrobe malfunction", which was widely broadcasted on CBS. Timberlake ripped off a part of her costume to reveal her right breast in an incident that was called "nipplegate" by the media.
While it was Timberlake who was directly responsible for the malfunction, which lasted for only half-a-second, Jackson had to endure the shame. The incident created uproar even as her publicist insisted that the incident was not pre-planned as accused. Here's What Adam Levine Has To Say About His Super Bowl Gig!
Watch The Infamous Janet Jackson-Justin Timberlake Video:
The popstar stated: "It's truly embarrassing for me to know that 90 million people saw my breast, and then to see it blown up on the internet the size of a computer screen..." She added that there were much worse things in the world, and it was a travesty that the incident was now the focus. CBS even forced Jackson to post an apology to the audience, MTV, CBS, NFL and anyone who was "offended" by it.
But people pointed out that Levine's bare-chested show at the same venue didn't ignite the same level of anger as did Jackson's. Twitter exploded with fans demanding an apology to the wronged singer. Fans were further incensed by the fact that the channel didn't bother to censor Levine's nipples, while Jackson's caused a media storm, almost ending her career.
Here are some of the reactions:
February 2, 2004

Janet Jackson issues apology on CBS a day after Superbowl

Justin cries to Les Moonves in his office, doesn't have to apologize on camera

Les vows to ruin Janet

She will drop a smash w/ Nelly

It will not get airplay on MTV pic.twitter.com/nn3FM2pTnA

— Steven James (@TheLaunchMag) February 3, 2019
Calling for Janet Jackson Appreciation Day
I'm all for Adam Levigne taking off his shirt during an otherwise dull halftime performance but Janet's still banned so... keep it #JanetJacksonAppreciationDay

— Laura Kramer (@Laura_Kramer) February 4, 2019
Say It Like It Is!
Super Bowl halftime nipple rules feel inconsistent

— Katie Nolan (@katienolan) February 4, 2019

👍
#SuperBowl Janet Jackson's reaction when Adam Levine showed off his nipples during the halftime show pic.twitter.com/rCCnpC0XpL

— Max Powers (@MaxPowers44) February 4, 2019
True Dat
Janet Jackson shows a nip and gets banned for life from the #SuperBowl but Adam Levine can do a strip tease and get away with it?? Rich white men fucking suck.

— jesswes (@jwasilau) February 4, 2019
Where's the Apology?
IF TWO ADAM LEVINE NIPPLES WERE APPROVED THEN SOMEONE OWES JANET JACKSON A BIG APOLOGY

— Katie Zack (@katiefzack) February 4, 2019
Talk About Double Standards 
How come Adam Levine can show his nipples at the Super Bowl but Janet Jackson can't? Double standards much? #SuperBowl2019 #FreeTheNipple

— Colin Denton🌭 (@colindenton) February 4, 2019
The Nipplegate incident was one of the biggest controversies of 2004, which brought to fore the underlying sexism, double-standards and racism in America. Even fourteen years after the debacle, it's clear that the society treats women with harsher standards of morality than it does men.