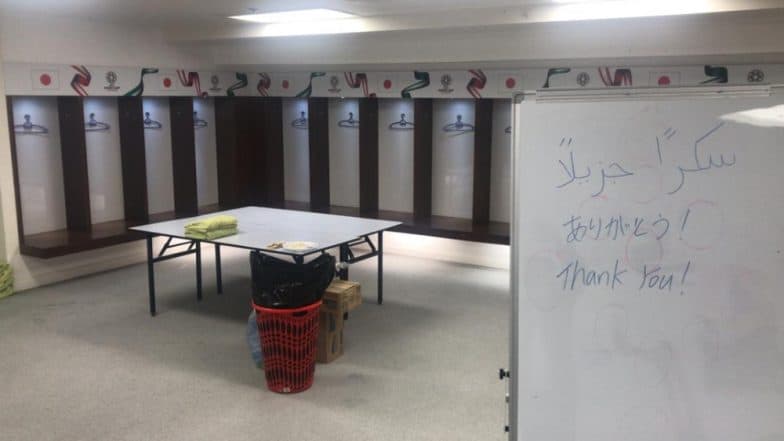 Japanese football players lived up to country's reputation of cleanliness after the final of AFC Asian Cup 2019 against Qatar in the United Arab Emirates (UAE). Despite a 3-1 defeat, heartbroken Japanese players left the dressing room spotless. In a gesture that has earned them praises all around. The Japanese football team also left a 'thank you' in the dressing room at the Zayed Sports City stadium in Abu Dhabi. It was written on a white board in Arabic, Japanese and English.
This is not the first time that Japan have cleaned their dressing room. Last year during the football World Cup, the team despite a disappointing loss to Belgium in a last-16 match went on to clean the dressing room. Not just the team, during the World Cup Japanese fans, stayed back in the stadiums to clean up litter. Something that Peru, Colombia and Senegal fans took a cue from. AFC Asian Cup 2019 Final Video Highlights: Qatar Shock Japan 3-1 to Win Their First Title.
It surely was not the best of the nights for the four-time Asian Cup winners on the field as Qatar outplayed them but despite the dejection of a defeat, the team showed their class and dignity.
Japan leave the #AsianCup2019 dressing room spotless with thank you message in English, Arabic and Japanese! 👏 pic.twitter.com/RfiVyoMumd

— #AsianCup2019 (@afcasiancup) February 2, 2019
Meanwhile, for Qatar, it was a historic triumph as they won the AFC Asian Cup title for the first time. Almoez Ali helped Qatar take an early lead in the 12th minute. Abdelaziz Hatim then doubled his side's lead in the 27th minute.
In the second-half by Takumi Minamino netted Japan's first goal in the 69th minute. But it was Akram Afif's VAR-assisted penalty that sealed the deal for Qatar and helped them win the historic Asian Cup title.