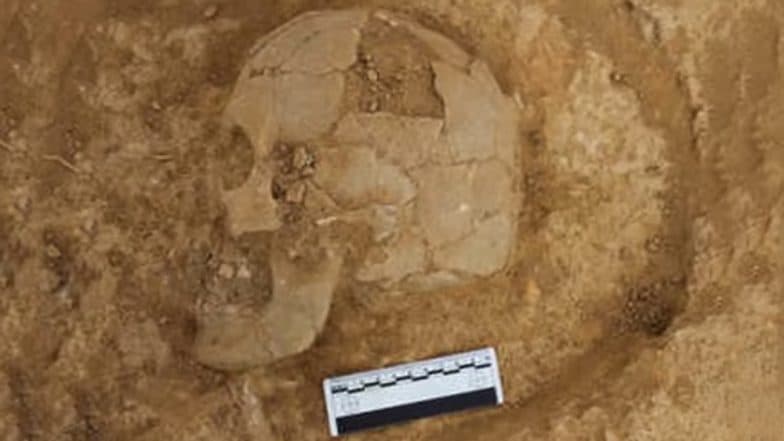 Archaeologists have found a new burial site in Gujarat's Kutch area. A human skeleton dating back to about 5000-years ago in the Harappan civilization was found in Dholavira. It is a massive burial site with more than 250 graves located about 360 km in Kutch district of Gujarat. On excavating 26 graves, the team found a human skeleton. These findings once again provide the proof of large human settlement from the Harappan times residing here. First Couple Grave Discovered in Harappan Cemetery at Rakhigari by Pune's Deccan University. 
According to a report in Times of India, the site is 300m x 300m. These findings remain are noteworthy because it is the first time such rectangular shaped sites have been found in Gujarat. Suresh Bhandari, the head of the Department of Archaeology in the Kutch University said, "The skeleton has been taken to Kerala University for determining its age, possible reason for death and knowing its gender." He also mentioned that earlier sites explored showed up circular or semi-circular burial sites. So the team will now study as to why this particular site is rectangular in shape. Ancient Ram-Headed Sphinxes Excavated in Egypt From 3,000-Year-Old Workshop (See Pictures).
Watch Video of Newly Discovered Burial Site in Kutch, Gujarat
This excavation was being carried out jointly by the Kutch University and Kerala University near Khatia village of Lakhpat taluka. The biggest grave discovered her was about 6.9 meters and the smallest one was around 1.2 meters. Not just human skeletons, the team also found animal remains from the site. They have also got more insights into the tools used by the people back then. "Geo-chemical analysis of all the excavated articles will be done but we can say with certainty that a human settlement flourished here," informed Bhandari.
Grinding stones, blades made of rock with sharp edges, bangles were also found from this site. They also found pottery vessels near the grave. All the material that has been found here will be sent in different laboratories across the country to find out more about the history and culture of the people living during the Harappan period.