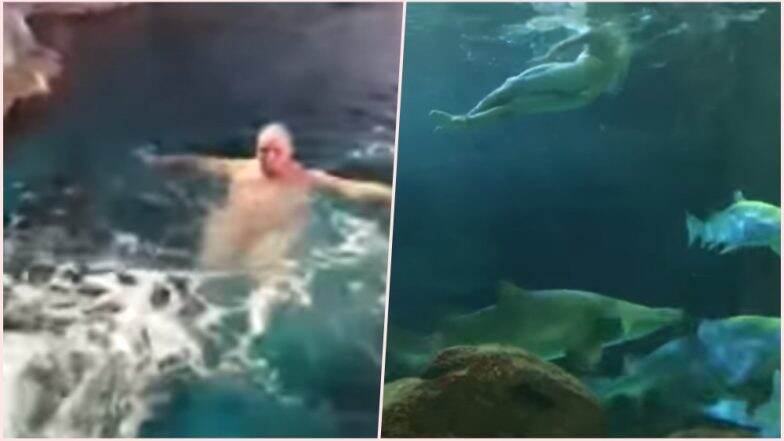 A 37-year-old British Columbia man is appearing in the headlines for jumping naked into a shark tank at a Toronto aquarium. The short clip showing the dangerous stunt reportedly at Ripley's Aquarium is now going viral. But it does not end here! Police officials on October 16 informed that he is already a 'wanted' in connection with a violent assault late Friday, that very evening, when he stripped down naked and jumped into the tank that had at least a dozen sharks. The spectators recorded the awful act, which delighted a few, but disgusted many. Blake Fischer Boasts About Killing Family of Baboons, Asked to Resign for Trophy Hunting Pics From Africa. 
It all happened on October 12. As CBC reported, the man identified as David Weaver, assaulted an individual, who suffered severe injuries. The police believe that the accused soon fled and headed to Ripley's aquarium, Canada, which is about three miles away from where the assault took place. Two hours later, the police officers were called to the popular tourist attraction.
Watch video of a naked man swimming in the shark tank.
In the video, it shows the man taking off his clothes and diving into the 2.9 million-litre tank, that offers an underwater gallery of many marine animals, including sharks. At one point, it appeared that man attempted to end his stunt, but he then dived back into the water. But it did not please the staff or the visitors at the aquarium including the police officials. A Toronto Police official, Jenifferjit Sidhu, was quoted in CBC as saying, "It put the man's safety in jeopardy, the safety of the marine animals and the safety of the staff who tried to get him out of the water." Python Falls From Ceiling Fan Right Amidst Bank Employees in China, Watch Video. 
After he climbed out of the lagoon, Weaver reportedly escaped before police could arrive. One witness told the same report, "I was scared I was going to witness the death of this guy." It was also in the guy's luck that none of the marine animals or the sharks harmed him. The aquarium's general manager, Peter Doyle told the National Post, "Whenever you surprise or corner any type of animal, whether it is a dog or a shark, it could potentially bite back, but these are not aggressive sharks like you see on TV. They looked more afraid of him than he was of them."