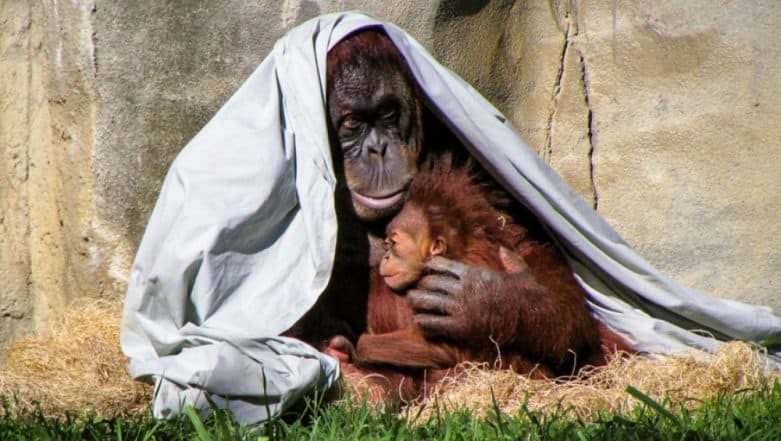 A significant crisis exists for orangutans. They will be extinct from the planet unless action is taken to preserve the forest in Indonesia and Malaysia, where they live. Reports claim that more than a quarter of Indonesian's forests have disappeared. One of the main reasons cited by experts is to make way for palm oil plantations. The oil is used to create a large arrangement of different consumer products from crisps, pizza, noodle, doughnuts to toothpaste, shampoo and biodiesel. Not only these, but your Cadbury chocolate bars, Oreo cookies and Ritz crackers are leaving orangutans on the "brink of extinction." The giant makers are destroying the primates' habitat for Palm Oil. Sudan, World's Last Male Northern White Rhino Dead: 7 Animals That Went Extinct in Last Two Decades Courtesy Us!
Greenpeace International published a new report accusing Mondelez International of sourcing palm oil from "rainforest destroyers." Suppliers have destroyed about 70,000 hectares since 2016 pushing the orangutans towards extinction. The areas demolished to the ground include 25,000 hectares of habitations in Indonesia. Being one of the world's biggest buyers of palm oil, Mondelez uses it in many of its most popular products including Cadbury and Roses chocolates and Oreos and Ritz crackers. According to the new investigation led by the non-profit, it discovered that between 2015 to 2017, 22 of the company's palm oil suppliers cleared at least 70,000 hectares of rainforest. Why did the Dinosaurs Become Extinct? It was Flowers and Not an Asteroid Strike That Killed the Giant Lizards. 
In the 31-page report, Greenpeace mentioned various supply chains of the leading brands but mainly pointing at Mondelez. Where the company claims to have been purchasing responsible pal oil since 2013, "in practice almost 95 per cent of the palm oil it buys is covered by 'book-and-claim' certificates – by far the weakest of the certification models offered by the main palm oil industry body, the Roundtable on Sustainable Palm Oil (RSPO)." The study blasts, "This means that the plantations and producer groups from which the overwhelming majority of the palm oil that Mondelez purchases is sourced are not governed by any sustainability initiatives." Attractive Species Can go Extinct Faster Compared to Others, Says Research. 
Coming across the allegations of Greenpeace, Mondelez International comes clean and released a statement. It reads, "Mondelez International is committed to eradicating deforestation in the palm oil supply and we are actively working with our suppliers to ensure palm oil is fully traceable. We have actionable steps in place to make certain that the palm oil we buy is produced on legally held land, does not lead to deforestation or loss of peat land, respects human rights, and does not use forced or child labor. Mondelez will continue to prioritize suppliers that meet our principles and exclude those that do not. We are calling on our suppliers to improve practices across their entire operations and to engage their third-party suppliers to ensure their palm oil production is 100% sustainable and traceable. At the end of 2017, 96% of our palm oil was traceable back to mill and 99% was from suppliers with policies aligned to ours. We're asking our direct suppliers to call on their upstream suppliers to map and monitor the plantations where oil is grown so we can drive further traceability."
The company further claimed to exclude 12 companies from their supply chain as a result of breaches. The statement further reads, "While Mondelēz International accounts for only about 0.5 percent of palm oil consumption globally, we have played – and continue to play – a leadership role in global industry advocacy toward sector transformation. We are proud to partner with several of the leading global organizations focused on improving the palm oil supply chain. Our work with these organizations is based on our view that the complex challenge of producing sustainable palm oil can only be solved through collaboration with all actors in the palm oil supply chain, from growers to suppliers and buyers, as well as local and national government and non-governmental organizations. We will continue to contribute toward our common goal of achieving palm oil sustainability."
The hard of Greenpeace Southeast Asia's Indonesia forests campaign, Kiki Taufik was quoted in Independent report as saying, "It's outrageous that despite promising to clean up its palm oil almost 10 years ago, Mondelez is still trading with forest destroyers. Palm oil can be made without destroying forests, yet our investigation discovered that Mondelez suppliers are still trashing forests and wrecking orangutan habitat, pushing these beautiful and intelligent creatures to the brink of extinction." The study adds, "They're literally dying for a biscuit."