Load More
Chennai, July 22: Indian Space Research Organisation (ISRO) is set to launch Chandrayaan 2, India's second moon mission, at 2:43 pm from the Satish Dhawan Space Centre (SDSC) at Sriharikota today. The 640-tonne rocket Geosynchronous Satellite Launch Vehicle-Mark III (GSLV-Mk III), nicknamed the 'Baahubali', will carry the Chandrayaan 2 spacecraft into space. Catch live updates on the launch of Chandrayaan 2 by ISRO here.
The countdown for Rs 978 crore Chandrayaan 2 mission launch that started at 6:43 pm on Sunday is progressing smoothly. The GSLV-Mk III rocket with Chandrayaan 2 spacecraft was originally scheduled for flight at 2:51 am on July 15. However, ISRO called off the mission one hour before the launch after technical snag in the cryogenic engine which occurred during filling of helium. ISRO chairman Kailasavadivoo Sivan is confident of Chandrayaan 2 mission's successful launch. Chandrayaan 2 Rover-Lander Tested on 'Moon Surface' Created With Salem Soil.
"Corrective measures have been taken ... it took us more than a day to do that after the glitch was discovered leading to the cancellation. I can assure you that there will be no such technical snag this time," Sivan said. About 16-minutes into its flight, the Rs 375 crore GSLV-Mk III rocket is expected to sling the Rs 603 crore Chandrayaan-2 into an Earth parking 170x40400 km orbit. The GSLV-Mk III rocket is nicknamed the 'Baahubali', as like the hero in the successful film lifts a heavy Lingam. Chandrayaan-2 New Images: ISRO Releases Photos of Moon Mission A Week Ahead of Launch, Describes Features.
The rocket will carry the 3.8-tonne Chandrayaan 2 spacecraft which has three modules namely Orbiter, Lander (Vikram) and Rover (Pragyan). The lander is named "Vikram" as a tribute to the pioneer of India's space programme and former ISRO chairman Vikram Sarabhai. According to ISRO, Orbiter and Lander modules of Chandrayaan 2 will be interfaced mechanically and stacked together as an integrated module.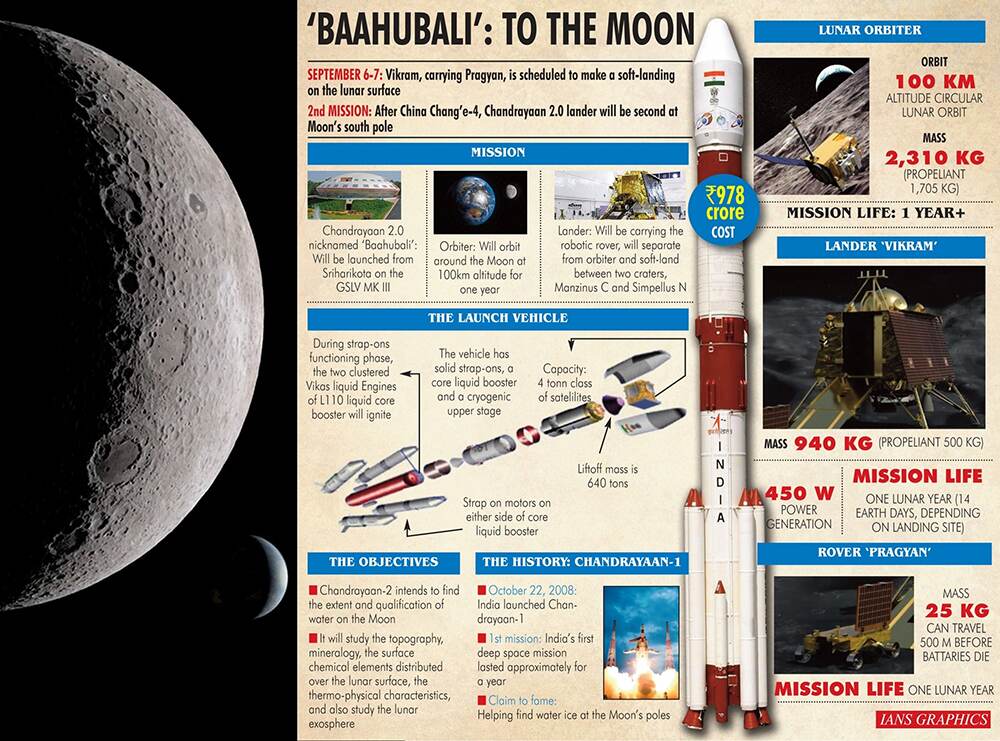 The Rover is housed inside the Lander. Once launched into earthbound orbit, the integrated module will reach the Moon orbit using Orbiter propulsion module. Subsequently, Lander will separate from the Orbiter and soft-land at the predetermined site close to the lunar South Pole, the space agency said. Further, the Rover will roll out for carrying out scientific experiments on the lunar surface.
When Chandrayaan 2's rover lands on the Moon, India will become the fifth country in the world to achieve the feat. India launched its maiden moon mission Chandrayaan-1 on October 22, 2008.