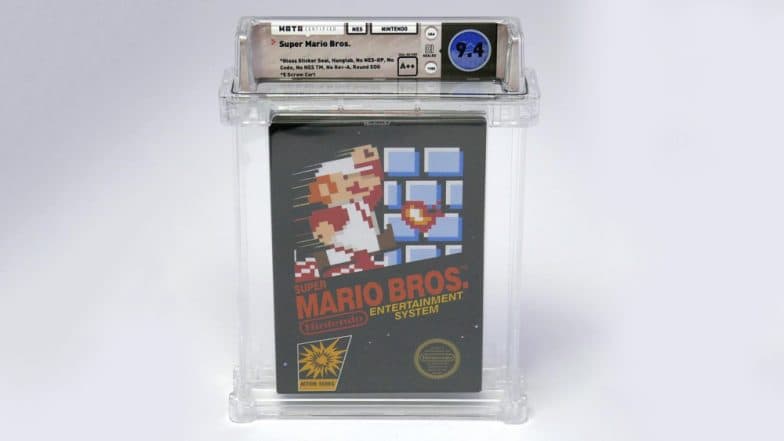 A sealed copy of Super Mario Bros. of Nintendo Entertainment System (NES) sold for a massive price of over $100,000. Setting a new record for the video game-collecting market, the cartridge seems to be very much valuable as the fact it is one of the earliest copies of the game. The video game was a 1985 sticker-sealed reprint that was only available in New York and LA to test-launch the NES. PUBG Violence on the Rise? The Link between Video Games and Aggression Explained.
This video game was sold to a group of collectors through Heritage Auctions on February 6, 2019 for a massive price of $100,105. Moreover, the box has a near-mint rating of 9.4 by Wata Games which is a dedicated for rating collectible video games. Additionally, the box also bears a sticker with a seal rating of A++ which gives a great value to the game.
Wata Games President Deniz Kahn mentioned that, "In terms of rarity, popularity, and relevance to collectors, this game has it all. Mario is the most recognized fictional or nonfictional character in the world, more so than even Mickey Mouse." Xbox and Playstation Could Improve Teamwork at Workplace; Playing Video Games With Colleagues Could Increase Productivity.
Sealed Super Mario Bros. copy sells for $100khttps://t.co/tFMlfY0AUp pic.twitter.com/szmAuaB7DN

— Eurogamer (@eurogamer) February 15, 2019
According to Wata Games, the 34-year old game also broke the world record for the largest amount of money ever paid for purchasing a single video game. This copy of Super Mario Bros. was sold for such a huge price for the fact that it has been nicely preserved since its original production in 1985.
Kenneth Thrower, co-founder and chief grader of Wata Games said, "Not only are all of NES sticker sealed game' extremely rare, but by their nature of not being sealed in shrink wrap they usually exhibit significant wear after more than 30 years."
The seller of the game wished to remain anonymous and had no active interest in selling the game to a new owner. However, six figure amount is sufficient to change one's mind. However, the games was sold to group of collectors in a co-ownership deal.