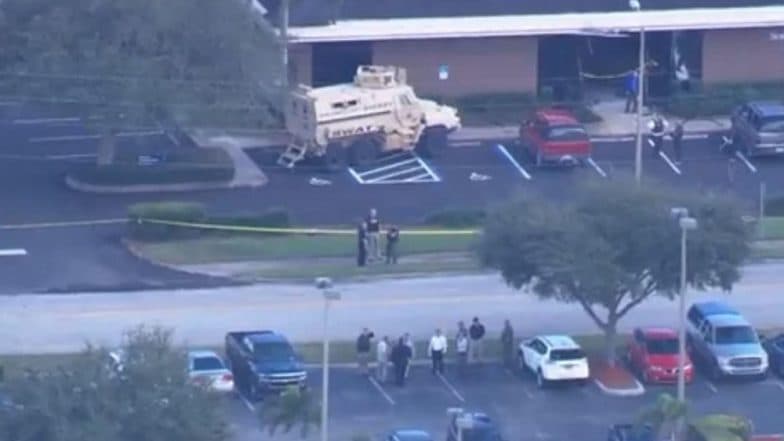 Florida's experience with mass shootings continues in 2019 as a gunman shot dead five people after taking hostages at a bank in Sebring, Florida. Sebring Police Chief Karl Hoglund said "at least" five people were "senselessly murdered" in the ordeal. It wasn't clear whether the victims were bank employees or customers.
The gunman apparently entered and locked the bank, then forced customers to lie on the floor. He then opened fire inside the bank.
The gunman has been identified as 21 year-old Zephen Xaver, a resident of the town.
The shooter reportedly called the police himself to confess that he had barricaded himself with hostages inside the bank. However, when the police team arrived he refused to turn himself in or negotiate. A SWAT team then broke into the bank premises and arrested the shooter.
"After negotiations to try to get the barricaded subject to exit the bank were not successful, the HCSO SWAT team entered the bank and continued the negotiations," the sheriff's office said. This led to the gunman surrendering his weapon and was then arrested.
Florida Governor Ron DeSantis thanked law enforcement for their "quick" response to the "horrific incident." "This individual needs to face swift and exacting justice," he said at the press conference, asking the Florida Department of Law Enforcement to provide local authorities with whatever resources they may need for the investigation. "This is a terrible day for Sebring, Highlands County, and for the state of Florida."
This incident would mark the 19th mass shooting in the U.S. in 2019, according to the Gun Violence Archive, a not-for-profit organization that tracks gun-related violence. The numbers include incidents in which four or more people were shot or killed, not including the shooters, according to the archive.