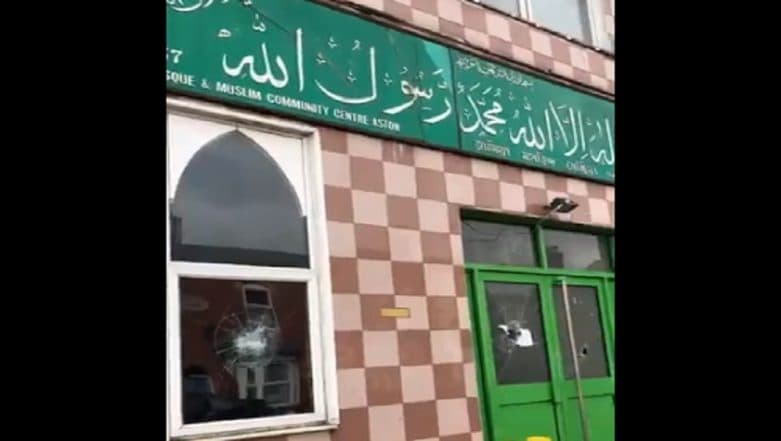 Birmingham, March 21: Days after the fatal terrorist attack in New Zealand's Christchurch, another Islamophobic strike has been reported - this time from the United Kingdom's Birmingham, which has been housing a significant Muslim population since decades. In the attacks carried out post midnight, at least five major mosques of the city have been vandalised.
The attacker, who has been caught on CCTV footage, used a  sledgehammer to break the windows of the mosques. The UK Counter Terrorism Unit has launched an investigation, and the West Midlands Police has undertaken a manhunt to apprehend the attacker at the earliest. New Zealand's Biggest Companies to Pull Ads From Facebook, Google After Christchurch Attack.
The motive behind the attack is yet to be ascertained, said Chief Constable of West Midlands Police Dave Thompson, while adding that the security force would leave no stone unturned to ensure an environment where the minority community is free to practice their religion and culture.
The mosques targeted in the midnight attack are located on Albert Road, Birchfield Road, Slade Road, Broadway and Witton Road in the city. The list includes the Masjid Faizul Islam mosque, one of the prime congregational centre for the Birmingham Muslims.
Following the attack, the Muslim community in the UK has feared a rise of such Islamophobic assaults in the near future. "After what happened in Christchurch, a miniscule segment of the population - who subscribe to the fascistic far-right ideology - feel empowered. They want to terrorise us here as well. We believe the UK government will strictly act against them," Zaahid Patel, a London-based Muslim, told LatestLY.
Labour Party Councillor Majid Mahmood has demanded the Theresa May government to take cognisance of the incident. He shared videos capturing the vandalised parts of the mosque on social media.
This is the Slade Road mosque in Erdington that was attacked last night. All the broken windows have been boarded up

In total 5 mosques were attacked with the offenders using sledgehammers

The Muslim community is fearful of more attacks, and we need @WMPolice to step up patrols pic.twitter.com/caogRsoeEy

— Cllr Majid Mahmood 🌹 (@CllrMajid) March 21, 2019
Yousef Zaman, chairman of Masjid Faizul Islam mosque in Aston, issued a statement, expressing fear that Muslim families in the city may no longer send children to the mosques due to the terror being driven through such attacks.
"There's a fear factor now in that adults are saying they're going to keep their children away from the mosque today because they're worried that it's not safe," he said.