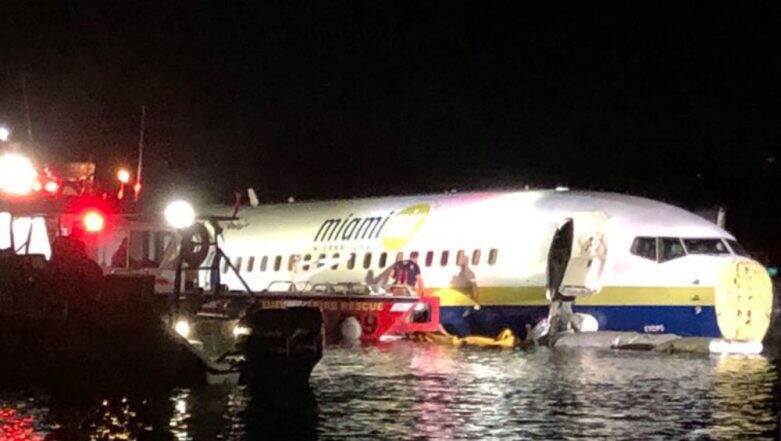 Florida, May 4: A Boeing 737 aircraft with 136 passengers on board fell into a river in Florida on Saturday. According to new agency Reuters, the incident took place after the commercial plane skid from the runway. Jacksonville Mayor Lenny Curry informed that a number of people were taken to hospital for non-life threatening injuries. All  passengers are reported to be safe. "The plane was not submerged. Every person is alive and accounted for," the Jacksonville Sheriff`s Office informed on Twitter. Boeing 737 MAX Aircraft: All About The Ethiopian Airline Airplane That Crashed And Why These Planes Are Being Grounded In China, Singapore And Other Countries.
The aircraft arriving from Naval Station Guantanamo Bay went into the river at the end of the runway at about 9:40 p.m. local time, a spokesman for Naval Air Station Jacksonville informed. The charter plane skid off runway into river in Jacksonville in Florida. The aircraft, a Boeing 737 belonging to Miami Air International, was flying from Naval Station Guantanamo Bay in Cuba, reports informed.
A plane skid off the runway at a military airport in Jacksonville in Florida in USA and plunged into a nearby river, local officials say. Some passengers were taken to hospital but there were no reports of fatalities. Ethiopian Airlines ET 302 Flight Crashes en Route to Kenya, Killing All 157 Passengers on Board.
Here's the Tweet:
#JSO Marine Unit was called to assist @NASJax_ in reference to a commercial airplane in shallow water. The plane was not submerged. Every person is alive and accounted for. pic.twitter.com/4n1Fyu5nTS

— Jax Sheriff's Office (@JSOPIO) May 4, 2019
Massive rescue response to 737 in river off @NASJax_ pic.twitter.com/eZi7Frb0cv

— Vic Micolucci WJXT (@WJXTvic) May 4, 2019
After the fatal Ethiopian Airlines plane crash in March this year, that claimed lives of 157 people on board , nations including Australia, China and Singapore have grounded the Boeing 737 MAX jets as a part of safety norm. Also, China's civilian aviation authority ordered all airlines to ground the Boeing 737 Max 8 planes. Similarly, after the tragic incident, Singapore, Malaysia and Australia also grounded the aircraft.