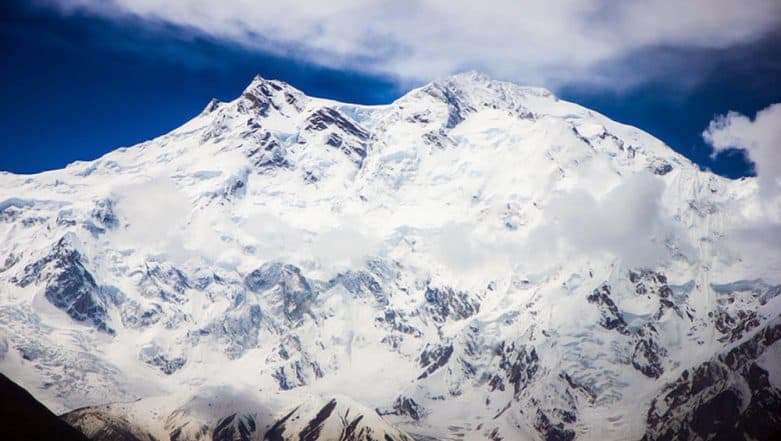 Islamabad, March 11: Bodies of a British climber and his Italian partner were found on Saturday, nearly two weeks after they vanished while trying to scale Pakistan's Nanga Parbat peak, the world's ninth-tallest peak. According to reports, the bodies of 30-year-old Tom Ballard and Italian Daniele Nardi, 42, were located about 19,356 feet up Nanga Parbat, the ambassador of Italy in Pakistan Stefano Pontecorvo confirmed in a tweet on Saturday. Satyarup Siddhanta Becomes World's Youngest Mountaineer to Climb 7 Volcanic Peaks. 
Ballard and Nardi had last made contact with friends and family on February 24 at the altitude of about 20,669 feet. They were heading towards Nanga Parbat, dubbed 'Killer Mountain', following which they lost contact. It must be noted that Ballard's mother, Alison Hargreaves was the first women to scale Mount Everest without oxygen in 1995 but died the same year while descending Pakistan's K2, the world's second highest mountain after Everest. Tom when her son was aged six.
Take a look at Tom's Instagram post:
The "Killer Mountain" is well known for the number of deaths that have occurred there. However, Pakistani climber Ali Sadpara, who completed the first winter ascent of Nanga Parbat, said he is all set to mount a search operation, but is being delayed amid tensions with India. Reports inform that  the due to the mounting military situation with India over the recent airstrikes,  airspace in Pakistan is being closed making any helicopter rescue mission impossible.
According to a reports, Ballard and Nardi have been attempting to climb the mountain in winter every year since 2012. Nardi, who hails from close to Rome, had attempted to scale Nanga Parbat in winter several times. Reports inform that the UK Foreign Office were in regular contact with Pakistani authorities regarding Ballard's disappearance.