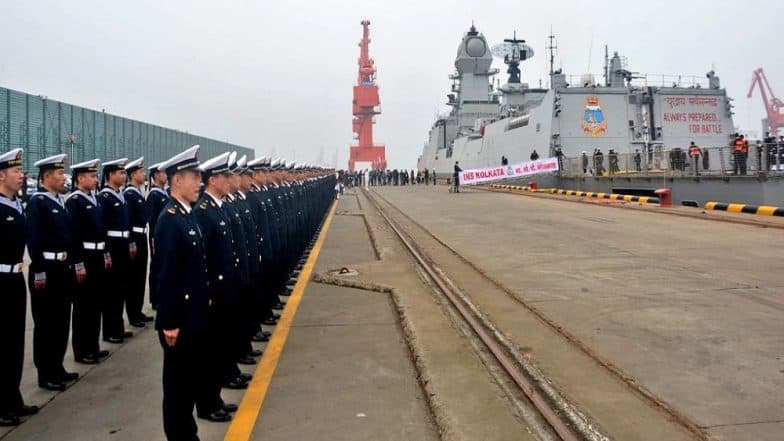 Beijing, April 21: Two Indian Navy warships - the destroyer INS Kolkata and tanker INS Shakti reached Qingdao in China to participate in International Fleet Review (IFR) to mark the 70th anniversary of the People's Liberation Army Navy (PLA-N). Captain Aditya Hara is the commanding officer of the INS Kolkata, while the INS Shakti is commanded by Captain Sriram Amur. Battleships from major navies across the world including Singapore and Australia are also participating in the maritime parade. INS Imphal, Project 15B Destroyer, Launched by Indian Navy Chief Admiral Sunil Lanba.
Indian Navy's Tweet:
Huge media interest evident in Qingdao. Have a look at some of the pics of ships reception pic.twitter.com/kwMWgm1AIB

— SpokespersonNavy (@indiannavy) April 21, 2019
On April 23, China is expected to showcase its maritime strength at the parade in the Yellow Sea off the Qingdao coast. Chinese President Xi Jinping will review the warships. Qiu Yanpeng, deputy commander of the PLA Navy, told media that China's first aircraft carrier, the Liaoning, and latest nuclear submarines, destroyers and fighter jets will join the parade. Indian Navy Trolls China; Conveys Strong Message Through Tweets.
Indian Navy's Tweet:
Some pics from Qingdao.... #ChinaNavy70 pic.twitter.com/aQ7xTvQ0aj

— SpokespersonNavy (@indiannavy) April 21, 2019
According to reports, Pakistan has not dispatched any of its warships to participate in the maritime parade. Both the countries share a strong bond but none of them has commented on the absence of Pakistan's navy from the IFR.
International Fleet Review is a parade of naval ships, aircraft and submarines, and is organised by nations to promote goodwill, strengthen cooperation and showcase their organisational capabilities. IFR also serves as an ideal platform for the world's navies to showcase their prowess and indigenous ship designing and shipbuilding capabilities in the international arena.