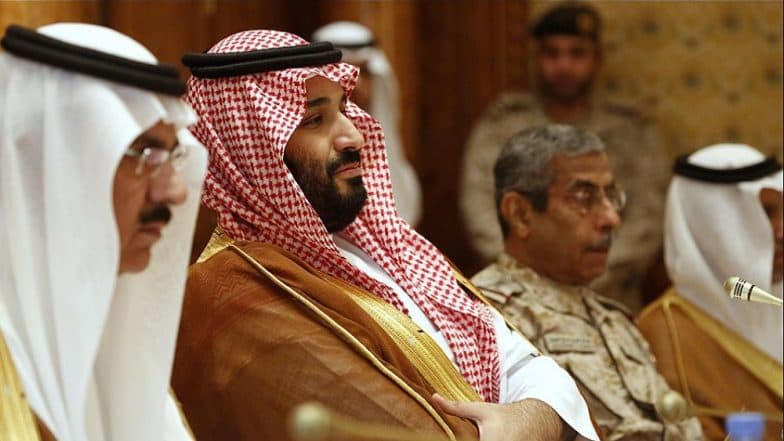 Islamabad, February 17: The Crown Prince of Saudi Arabia, Mohammed Bin Salman will arrive in Pakistan on Sunday to start his tour of South Asian countries, the trip from the crown prince comes amid increasing tensions between India and Pakistan. The visit comes days after 40 CRPF personnel lost their lives in a suicide attack in Pulwama district of Jammu and Kashmir. Saudi Arabia to Make Biggest Investment in Pakistan's History: Minister.
Pakistan based terror outfit Jaish-e-Mohammed, has claimed the responsibility of the attack. Although Pakistan has been accused by India and International communities, while it denied involvement in the attack. Cash-strapped Pakistan is embracing Bin Salman with open arms and expects the crown price to invest more than 10 billion dollars. Saudi Crown Prince to Visit Pakistan This Weekend, Expected to Seal Multi-Billion Dollar Deals.
Earlier, Saudi Arabia helped Pakistan by giving 6 billion dollars loan to keep its economy afloat. The crown prince's trip is the biggest visit since 2015, when Chinese President Xi Jinping visited after China announced to invest more than 10 billion dollars on infrastructure in Pakistan as part of global Belt and Road initiative.
Pakistan has tightened up the security in Islamabad as the prince is likely to stay at the prime minister's residence. It is expected that Bin Salman will meet Pakistani Prime Minister Imran Khan and Army Chief Qamar Jawed Bajwa. The crown prince is also likely to discuss peace negotiations to end the civil war in Afghanistan.