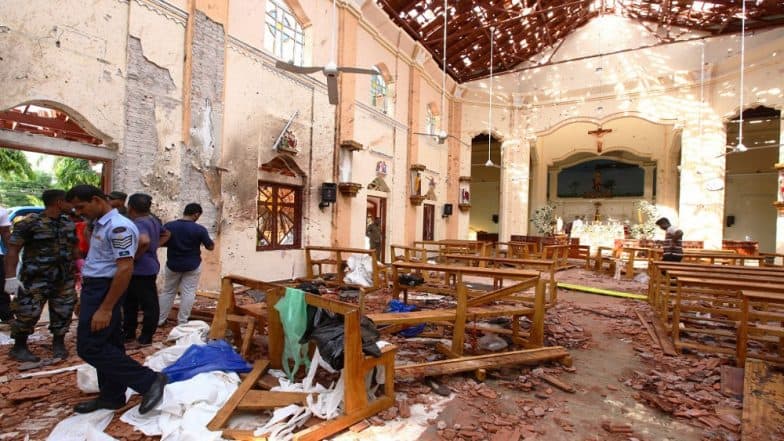 Colombo, April 23: Sri Lanka President Maithripala Sirisena on Tuesday said that he was unaware of the intelligence report warning of the serial blasts and the report was not shared with him. Sirisena added that he expects to change heads of defence forces within 24 hours. This development comes two days after the attack which killed over 320 people and injured 500 others. 'India Gave Us Intelligence': Sri Lanka PM Ranil Wickremesinghe Admits 2 Days After Easter Sunday Terror Attack.
Earlier today, Sri Lanka Prime Minister Ranil Wickremesinghe said that India had shared the intelligence inputs with Sri Lanka but there were some 'lapses'. "India gave us some intelligence but certainly there has been some lapse," Wickremesinghe said in an interview with NDTV in Colombo.  Sri Lanka Terror Attacks: CCTV Footage Spots Suspected Suicide Bomber Entering St Sebastian's Church Before Explosion; Watch Video.
A series of eight serial bomb blasts shook the island country on Easter Sunday killing over 320 people and injuring 500 others. The ISIS (Islamic State) has claimed responsibility for the attack. Earlier, Sri Lanka had named National Thowheeth Jama'ath, a local Islamist group, as the major suspect of the deadliest attack in the decade.
A probe also revealed that serial blasts were "retaliation for Christchurch" attack in New Zealand. "The preliminary investigations have revealed that what happened in Sri Lanka was in retaliation for the attack against Muslims in Christchurch," said Ruwan Wijewardene, Deputy Defence Minister.