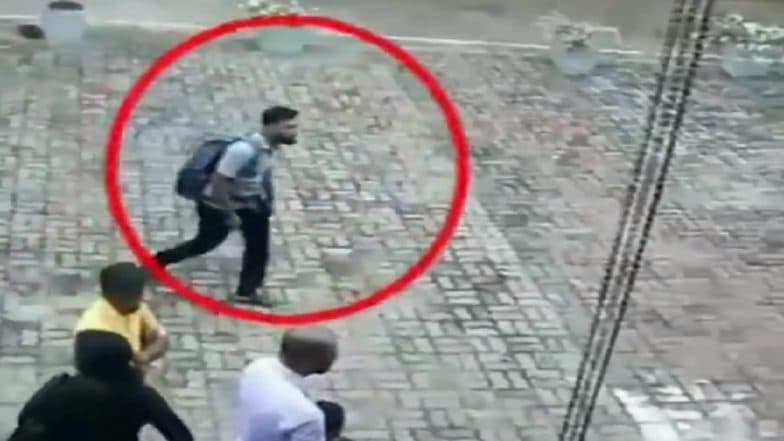 Colombo, April 23: Two days after the devastating terror attacks in Sri Lanka, a CCTV footage has spotted a suspected suicide bomber entering the St Sebastian's Church in Negombo moments before the fatal explosion. The single blast has claimed the lives of nearly 100 worshippers at the church, with the death toll feared to rise.
The video, circulated by local as well as international media outlets, shows a semi-bearded man dressed in casual jeans and T-shirt entering the St Sebastian's Church with a heavily-loaded bag. Blasts Were 'Retaliation for Christchurch' Terror Attack in New Zealand: Deputy Defence Minister.
The bag, which was likely filled with explosives, was loaded to an extent that the suspect could be seen leaning towards his lower body. In the footage, he is being seen entering the mass and standing among the devotees.
CCTV Footage Spots Suspected Suicide Bomber: Watch Video Below
CCTV footage has emerged of a suspected suicide bomber entering St Sebastian's Church in Sri Lanka moments before an explosion.

More on this footage here: https://t.co/1bAcNa0LbH pic.twitter.com/aZgzgooqxI

— Sky News (@SkyNews) April 23, 2019
Apart from the St Sebastian's Church in Negombo, the coordinated terror attacks were also carried out at churches and luxury hotels in Colombo and Batticaloa.
The overall casualty toll has jumped to 310 deaths and over 550 left injured. The Lankan government imposed an emergency on Monday midnight to crackdown on hardliners suspected to be involved in the terror attack.