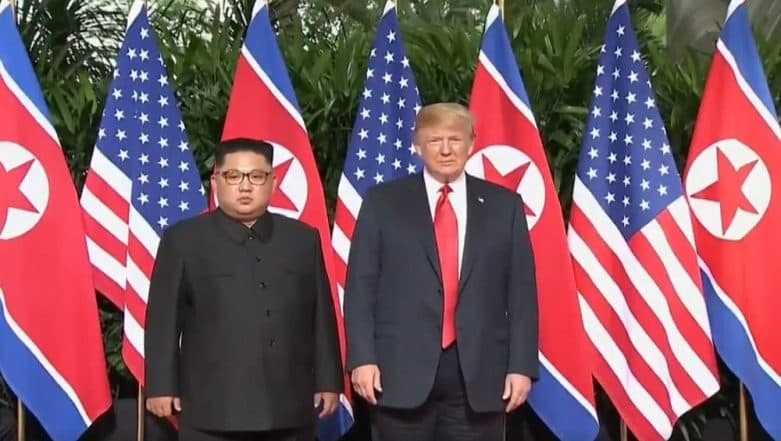 Toronto, February 25: Forty-eight hours before US President Donald Trump meets with North Korea's leader Kim Jong-un for a second summit, officials in his administration have expressed concern over the US President's stated goal of getting Pyongyang to give up its nuclear weapons.
Donald Trump is scheduled to meet with Kim Jong-un on February 27 and 28 in Vietnam. The meeting comes eight months after a historic first meeting between the two in Singapore on June 12, 2018.
"I don't know if North Korea has made the choice yet to denuclearise, but the reason why we're engaged in this is because we think there's a possibility that North Korea can make the choice to fully denuclearise, and that's why the president has assigned such a priority to engaging with them," a senior administration official said in a briefing with reporters. United Nations Accuses North Korea of Trying to Protect its Nuclear Capability
Trump has expressed confidence in the past that North Korea is willing to give up its nuclear weapons in exchange for sanctions relief and a possible reunification with South Korea. However, negotiations over the past months have seen little progress on the denuclearisation front. North Korea, in fact, has accused the U.S. of trying to bully them into giving up its nuclear weapons.
Meanwhile, US Secretary of State Mike Pompeo too has contradicted another one of Donald Trump's earlier statements regarding North Korea. Post the Singapore summit, Trump had tweeted, "There is no longer a Nuclear Threat from North Korea." But, Pompeo, when asked this question by a CNN anchor, said the opposite. CNN's Jake Tapper asked Pompeo whether "North Korea remains a nuclear threat?" To which the US Secretary of State of said, "Yes." He went on to clarify that "What he (Trump) said was that the efforts that had been made in Singapore -- this commitment that Chairman Kim made -- have substantially taken down the risk to the American people. It's the mission of the Secretary of State and the President of the United States to keep American people secure. We're aiming to achieve that," Pompeo said.