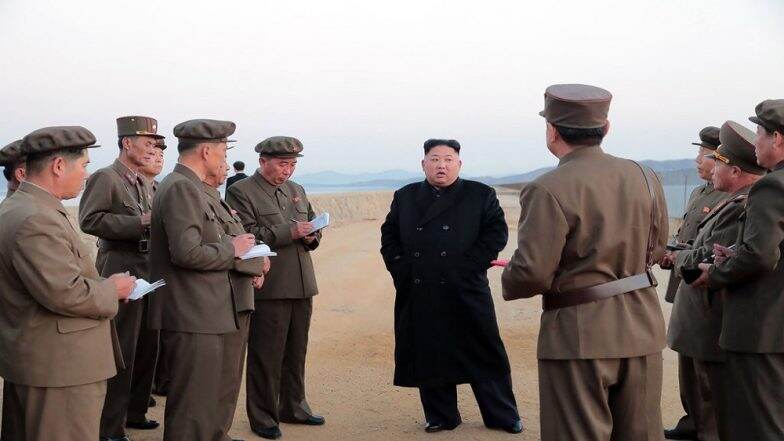 Toronto, February 6: Weeks before a reportedly second summit meeting between North Korea's leader Kim Jong-Un and US President Donald Trump, a UN committee has released a report saying that Pyongyang continues to stockpile and maintain its nuclear arsenal.
This confidential report by United Nations sanctions monitors was submitted to the 15-member UN Security Council sanctions committee. The report says that North Korea has worked over the years to ensure that its nuclear arsenal cannot be destroyed by air strikes.
The report said it "found evidence of a consistent trend on the part of the DPRK (Democratic Republic of North Korea) to disperse its assembly, storage and testing locations".
The UN report says that Pyongyang "is using civilian facilities, including airports, for ballistic missile assembly and testing with the goal of effectively preventing 'decapitation' strikes on a smaller number of identified nuclear and missile assembly and manufacturing sites".
This report is a stark contradiction to the picture that US President Donald Trump has tried to paint of the impact of his outreach to North Korea. After last year's Singapore summit, Trump had proclaimed "tremendous progress" in his dealings with North Korea" as well as saying that North Korea no longer posed a nuclear threat. The UN report was preceded by a similar report by the US intelligence agencies which said that it is unlikely that North Korea will give up its nuclear stockpile.
The report comes as experts on North Korea have warned that Kim Jong-UN has been stringing the U.S. along as he tries to negotiate a relief from economic sanctions.
The UN monitors also noted "a trend in the DPRK's evasion of financial sanctions using cyber-attacks to illegally force the transfer of funds from financial institutions and cryptocurrency exchanges".
"The country continues to defy Security Council resolutions through a massive increase in illegal ship-to-ship transfers of petroleum products and coal," the sanctions monitors found. "These violations render the latest UN sanctions ineffective."