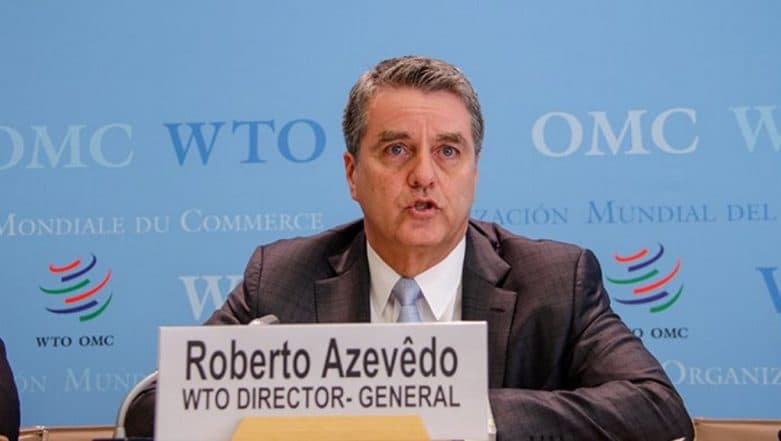 Toronto, April 3: The World Trade Organisation has cited "strong headwinds" to cut back global trade growth projections for this year to 2.6% from the earlier predictions of 3.7%. The WTO said a slowdown in the major economies and financial volatility has triggered a slowdown in global trade.
"The fact that we don't have great news today should surprise no one who has been reading the papers over the last 12 months," WTO director-general Roberto Azevêdo told reporters in Geneva. He added, "With trade tensions running high, no one should be surprised by this outlook. Trade cannot play its full role in driving growth when we see such high levels of uncertainty," said Azevêdo.
The continued U.S.-China trade war and the trade tariffs slapped by the Trump Administration against various countries are a big contributor to the slowdown. Azevêdo urged countries and said, "It is increasingly urgent that we resolve tensions and focus on charting a positive path forward for global trade which responds to the real challenges in today's economy — such as the technological revolution and the imperative of creating jobs and boosting development". Read: IMF Cuts Global Economic Growth Projections over US-China Trade War
The WTO also cited "weaker global economic growth, volatility in financial markets and tighter monetary conditions in developed countries" as factors contributing to the trade slowdown. The 2.6% figure is the slowest growth forecast since 2016 but the director-general said a "relaxation" of tensions, especially the lifting of restrictive trade measures, could see 2019 beat the projections. The global trade growth forecast for 2020 is at 3%.
BREAKING: World merchandise trade growth is forecast to slow in 2019 to 2.6% from 3.0% in 2018. Trade growth could then rebound to 3% in 2020 but this will depend on an easing of trade tensions. Full report: https://t.co/HIpg6kh3s2 #WTOForecast pic.twitter.com/4jv5a7qfhd

— WTO (@wto) April 2, 2019
What's the trade forecast for Asia? Study this graphic. #WTOForecast https://t.co/aArrGlQOsG pic.twitter.com/t2LIenZ7hH

— WTO (@wto) April 2, 2019
He sounded a warning for countries employing protectionist measures, "If we forget the fundamental importance of the rules-based trading system we would risk weakening it, which would be a historic mistake with repercussions for jobs, growth and stability around the world," Azevedo said.