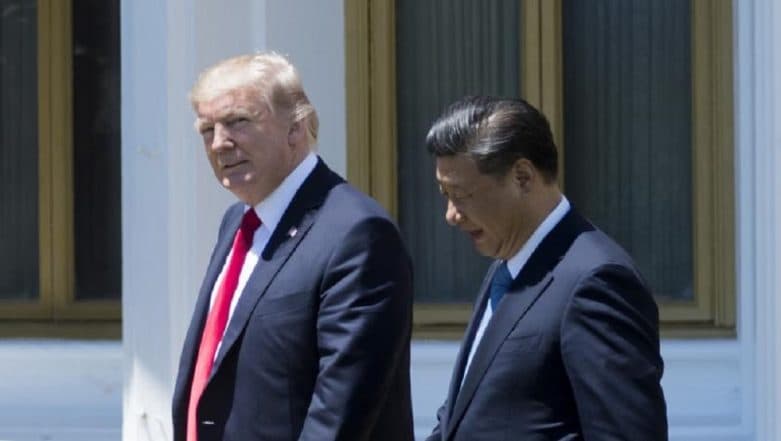 Geneva, September 2: A day after the United States pressed the latest round of import duties on Chinese goods, Beijing moved the World Trade Organisation (WTO) to register an official complaint. On Monday, the Chinese Commerce Ministry in its complaint to the WTO alleged that Washington has violated the recent agreement reached between the two sides in Osaka -- where they decided not to impose any new tariff on goods being imported by each other. US-China Trade War: Can India Offset Huawei's Global Losses Post US Ban?
The Donald Trump administration, however, decided to impose on Sunday a 15 percent tariff on $125 billion-worth Chinese goods including footwear, smart watches and flat-panel televisions. Beijing has called it a violation of the Osaka agreement, and has vowed to defend its legal rights before the WTO.
Meanwhile, the US President has continued to further his rhetoric against China, reiterating that he would not allow the Asian nation to reap benefits at the cost of American interests. "As long as I'm the President, I cannot allow any other country to hurt the interests of the US," he had said last week, adding that "countries like China" would prefer to see Democrats win in the 2020 presidential elections.
Update by AFP:
#BREAKING China lodges WTO trade complaint against US: govt pic.twitter.com/di1ACkKYGW

— AFP news agency (@AFP) September 2, 2019
In retaliation to Trump's "15 percent tariffs", China on Sunday announced additional duties on US-originating goods worth $75 billion. Nearly 1,717 times of a total of 5,078 products originating from the US will be slapped with additional tariff ranging from 5-10 per cent.
Notably, the US-China trade war began in June 2018, when President Trump decided to impose a whopping 25 per cent tariff on $50 billion-worth of Chinese imports. Since then, both the sides have been slapping retaliatory duties which has contributed to the downslide in global trade.