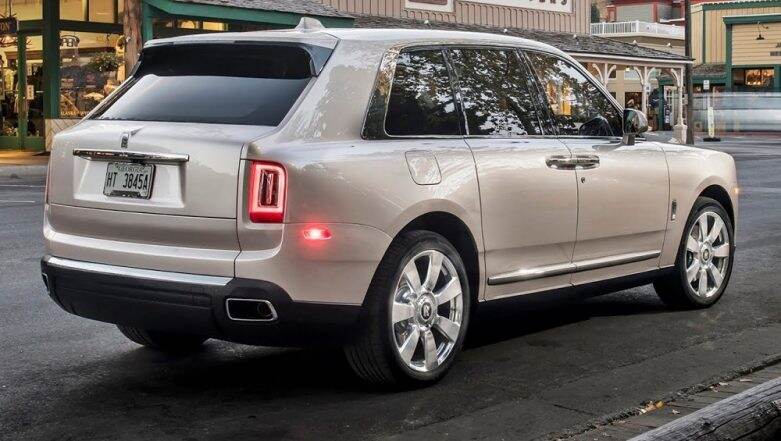 New Delhi, December 2: Branded as the world's "most luxurious SUV", the Rolls-Royce Cullinan has been launched in India. The car, considered to be the most desirable vehicle for auto-lovers, comes with a heavy price tag. Its specifications are also equally overwhelming.
The most basic model of Cullinan has been priced at Rs 6.95 crore by Rolls Royce in India. Combined with road taxes and other accessories, the price could well hover around Rs 7.5 crores, said experts. Google's Top Executive Drives Home a Customised Rolls-Royce Dawn Black at Pebble Beach.
The car is powered with a behemoth, 6.75-litre V-12 engine that makes 563 hp and 850 Nm of torque. The peak torque is reached with as low as 1,600 rpm, which makes it capable for a quick getaway despite the large size.
Cullinan is nearly 5 metres long (15 feet) and 2 metres wide. For those seated on the backseat, two 12-inch touchscreen monitors have been installed. The infotainment experience turns surreal as the screens are integrated with Blu-Ray player, a digital television and 18 speakers linked to Rolls-Royce's bespoke audio system.
With the kind of specifications, along with its capability to overcome all forms of terrain -- which goes without saying in Rolls-Royce vehicles -- Cullinan should make to your wish-list of luxurious vehicles.