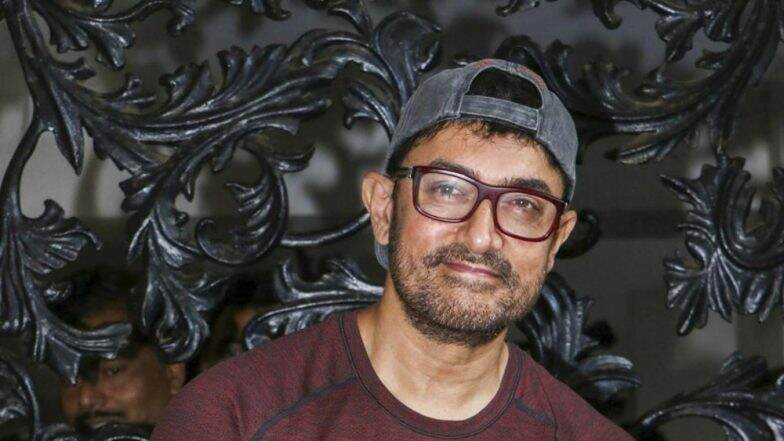 Aamir Khan was last seen in Yash Raj Films' Thugs Of Hindostan. Unfortunately, the film tanked at the box-office. But his legion of fans have not given up on him for they are very excited for his next film, Laal Singh Chaddha, which is the Hindi remake of Tom Hank's Forrest Gump. As we all know, Aamir loves to get into the skin of every character that he plays. Hence, he does everything to get it right. Be it learning a new dialect for changing his body structure. For Laal Singh Chaddha too, he is following a special diet, we hear.
According to Hindustan Times, Aamir will lose 20 kilos to play the younger phase of his character in Laal Singh Chaddha. "The actor follows a special diet consisting of sabzi roti and some protein intake. He will also undergo the training for his look after September. As of now, Aamir is involving himself in the overall creative aspects for the project," the source was quoted by the daily. Laal Singh Chaddha: Is This Aamir Khan's Look for Forrest Gump Remake?
The report further reveals that the makers of Forrest Gump were getting many enquiries from Hindi filmmakers for the remake rights. However, apparently, they were adamant on Aamir portraying the role. "The original makers have heard good things about India's one of the finest actors, Aamir Khan and his knack for perfection in movie making. Despite good offers earlier, the makers decided to give its remake rights to the production who brings Aamir involved in the project," the source was further quoted.
Reportedly, when Aamir learnt about this, he met the makers and initiated the talk. "It took more than five years to finalise the deal," a source informs HT. No wonder then Aamir is doing everything to make sure that the remake turns out to be the best. Laal Singh Chaddha is set to go on floors in November this year. Needless to say, we can't wait to see the official first look of Aamir from the film.