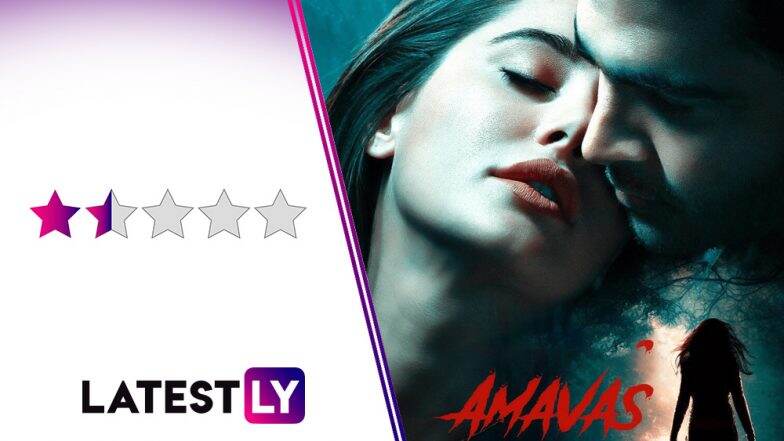 So we are still making haveli-based horror films, are we? The latest entry in this horror sub-genre that has been milked too much, from Kamal Amrohi to the Ramsays to Vikram Bhatt, is Amavas. So named, because, be it India or England, where this movie is set, moon-less nights are initiation parties for spooky ones, while full moon nights are hijacked by werewolves. Ah, anyway, Amavas stars Nargis Fakhri and Sachiin Joshi, two non-actors who share an incredible persistence to stick with non-existent histrionics. Amavas is directed by Bhushan Patel, known for making horror hits like Ragini MMS 2 and Alone. So can he offer genuine scares to disguise the limitations of his lead actors? Let's find out! Nargis Fakhri Cancels Amavas Promotions After Being Asked About This Actor!
Karan (Sachiin Joshi) and Aahana (Nargis Fakhri) have been together for two years in the UK. The guy is loaded enough to have a mansion in the countryside, but has never gone there for the past eight years. On Aahana's insistence, he takes her there to spend their second anniversary together. After staying in that ominous looking haven, the couple gets haunted by strange nightmares and spooky sightings. As Aahana tries to figure out what's happening, she realises whatever is hounding them has links to a dark secret in Karan's life.
Basically, Amavas has every ingredient that you expect in a film like this. There is a broken swing in the mansion that no one bothered to repair, even though the family has money to hire a butler. We have creaking doors, nightmares with nightmares and enough jump scares, accompanied by the trademark spooky BG score. A couple of them are effective. But after a while, they become as annoying as that irritating cousin who keeps shouting 'BOO' at every predictable turn. The first half is filled with such BS scares that mostly haunt Karan, reviving his paranoia.
What's even more irritating than these jump scares are the characters in the film. They are so laughably depicted that Amavas turns out to be a guilty pleasure just to enjoy how bad they are. There is the bimbo Aahana who does exactly the opposite of what she is told not to do, from roaming around desolate hallways alone to playfully sprinting towards the woods in the dark. Okay, girl, I know that you don't believe in ghosts, but your surely must have heard of robbers and wild animals? Her antics sometimes makes us wish Karan would have sent her to a correctional facility instead of his mansion. Nargis Fakhri Reveals the REAL Reason For Cancelling Amavas Promotions And It's Got Nothing to Do With Uday Chopra!
Karan, on the other hand, is less annoying thanks to that mystery around his character. But his impassiveness, which is more of Joshi's fault, is grating enough. He also has daadi, the owner of the creepiest smile in the world, whose adamancy to stick to honour is why we have this movie in the first place.
Mona Singh's character, who is Karan's psychiatrist, seems to have taken her psychology classes from all the tantrik babas from the Bhatt movies. She starts off by talking about paranoia and pills and stuff, before she suddenly switches to doling gyaan about paranormal stuff and how the power of Om can get rid of any evil. There is also a buck-toothed butler called Goti (Ali Asgar). In case you don't find his antics funny, you can laugh at his name and his fake teeth, if you suffer from a poor sense of humour.
The second half deals with the secrets behind the happenings in the mansion, that is dominated by an overlong flashback. The scene has the audacity to show off Joshi and Vivan Bhatena (too much growling) as college students. Perhaps the makers were inspired by Jaani Dushman, where the likes of Suneil Shetty and Aditya Pancholi, well into their 40s as students. The point of the flashback scene could have ended in just five minutes. Patel, however, needlessly stretches the sequences with a romantic track, two songs and a random Mission: Impossible mask.
There are a couple of twists that follow this flashback scene. They should have been surprising, at least on paper, but the overall execution and the acting on display make sure our interest remains in the grave, unlike that loathsome big bad ghost. Amavas Trailer: Nargis Fakhri, Mona Singh and Sachiin Joshi's Horror Film Looks Blah – Watch Video.
All this leads to an over-stretched climax that takes inspiration from the likes of Raaz, 1920, Shutter etc while serving enough hamminess. And just when I thought I have seen it all, the movie even gives Sachiin Joshi a Hulk moment, in case you ever wonder how he looks bare-bodied. Well, did ya?
The special effects in creating the spookiness are decent, though the ghost effects on Joshi's face feel like bad Instagram filters.
Watch The Trailer of Amavas Here:
The Performances
What's more horrifying that stale horror in the film is the acting on display. Nargis Fakhri, who is an alumnus of Lisa Ray brand of acting, continues to make sure that none of her intended emotions ever reaches her eyes. Sachiin Joshi's spectacles act more than him, though, compared to Fakhri...well, should we? If you are in love with Ali Asgar brand of comedy, then you might be able to tolerate the comedian's irritating schtick here. Navneet Kaur Dhillon, who plays an important character in the film, is okayish. Mona Singh is perhaps the only performer in the cast who has some modicum of acting.
Yay!
- The Locales Look Good
- A Couple of Jump Scares in the Beginning
- A Guilty Pleasure At Times
Nay!
- The Horror! The Horror!
Final Thoughts
Just when you thought Bollywood is finally progressing in horror with the likes of genre-bending Stree and Tumbbad, Amavas reminds you nothing has changed much. Like its title, the movie casts darkness over every aspect of film-making, but above all, in keeping the viewer spooked! Unless, you love watching a guilty pleasure every now and then!