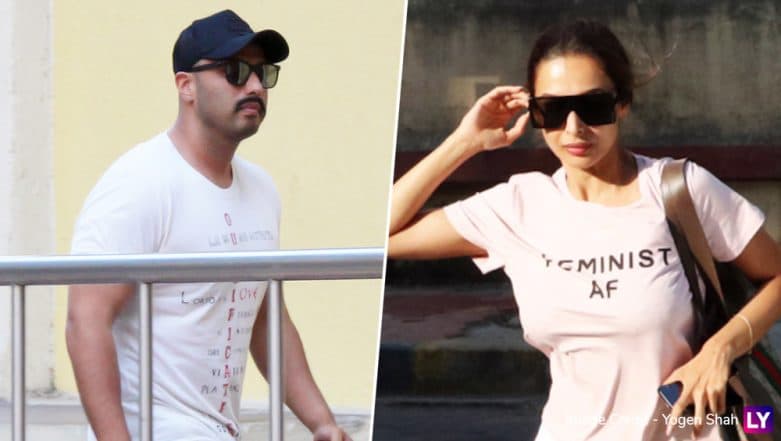 Rumours are strong that another Kapoor might tie the knot soon, though lips are tightly pursed on this. Last year, around this period, Sonam Kapoor had gotten married to entrepreneur Anand Ahuja. This year, it could be the turn of her cousin Arjun Kapoor to tie the knot with his rumoured paramour, Malaika Arora. Not sure if it is because of this being Malaika's second marriage (she was earlier married to Arbaaz Khan), the couple is not ready to crow about their union to outsiders yet. Is Malaika Arora-Arjun Kapoor's Wedding Happening in April 2019? Here's What the Actress Has to Say.
However, sources close to the couple are insisting that they could get married during the Good Friday and Easter weekend. Recently Arjun Kapoor and Malaika Arora were seen leaving a hospital in Mumbai. This leads to rumours whether Malaika is pregnant.
The truth, though, could be nothing of that sorts. A source close to the couple EXCLUSIVELY told us that Arjun and Malaika had gone to the hospital for a pre-marital checkup, a test many of the couples are taking these days before they tie the knot. Why, it is also speculated that Arjun's good friend Ranveer Singh and Deepika Padukone also had undergone the same test before their marriage. So are we really going to hear the wedding bells ring for Arjun and Malaika any time soon? Arjun Kapoor and Malaika Arora's Recent Hospital Visit is Making Us Curious.
Meanwhile, even the families of the couple are tightlipped about the whole thing. Sources close the family members, including Arjun's father, producer Boney Kapoor, have said to keep a week out of their schedule from April 18 to 27 for undisclosed reasons, and we are sure that it has nothing to do with Avengers: EndGame releasing next week.