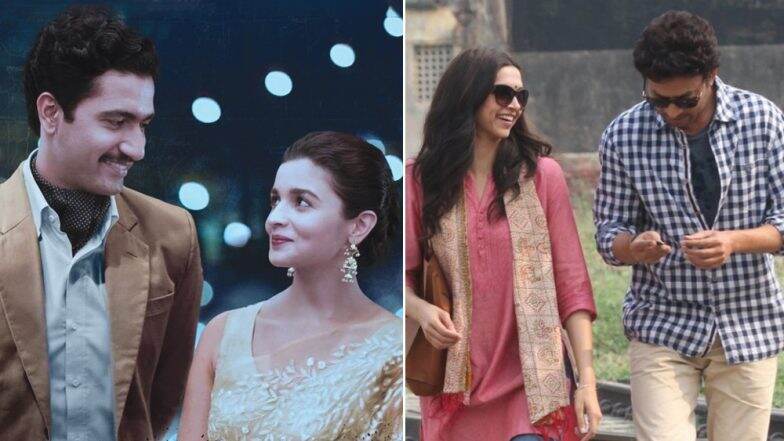 The much-awaited film Photograph starring Nawazuddin Siddiqui and Sanya Malhotra released today (March 15). The comedy-drama directed by Ritesh Batra has opened to positive responses. The film has left the critics and fans impressed with the striking chemistry of the lead pair and their extraordinary journey, how the two strangers come across each other and how life takes an unexpected turn. Photograph has grabbed audience's attention, courtesy the film's lead pair and the beautiful story line. Once again Bollywood has given us an unusual pairing but, this isn't the first time. Even in the past, we have seen some unconventional pairing and we movie buffs have totally loved it. Let's take a look at those five unusual pairs that have been beautifully Photograph-ed in our minds. Photograph Movie Review: Nawazuddin Siddiqui, Sanya Malhotra's Slow-Paced Love Story Is Filled With Sweet, Whimsical Moments.
Alia Bhatt and Vicky Kaushal – Raazi
Alia Bhatt and Vicky Kaushal were magical in this spy thriller, Raazi. Alia and Vicky were not just on point with regards to their role, but they complemented each other beautifully. This refreshing pair made our hearts smile.
Vidya Balan and Manav Kaul – Tumhari Sulu
Vidya Balan is a staggering actress who can own any role with absolute ease. Her role as a homemaker who later goes on to become a radio jockey, showed how even a housewife has dreams. Though Vidya had a major role to play in the film, Manav Kaul (who played the role of her husband) supported the actress in a way that it looked real. Their roles were absolutely relatable and how can we forget their antics!
Deepika Padukone and Irrfan Khan – Piku
The movie fanatics were thrilled to see Deepika Padukone being paired opposite Irrfan Khan. This was something totally unexpected especially after seeing the kind of genre of films they've done in the past. Deepika and Irrfan's pairing just proved, even unconventional jodi's can be pulled off with ease. Ranveer Singh Smitten by Deepika Padukone's Wax Statue at Madame Tussauds Is the Best Thing on Internet Today.
Kareena Kapoor Khan and Sumeet Vyas – Veere Di Wedding
One could not even imagine how Kareena Kapoor Khan and Sumeet Vyas would look together as a couple onscreen. It is really not easy to look like one convincing couple onscreen. After watching the film, audiences were convinced that no one other than Sumeet would have been an ideal match for Kareena as her fiancé.
Irrfan Khan and Nimrat Kaur – The Lunchbox
This pairing was totally different compared to other unusual pairs. Here Irrfan Khan and Nimrat Kaur don't really meet, but they interact by exchanging letters. But still, they were so relatable, their acting was so brilliant, that the duo were labelled as a pair by the audience.
Watch the trailer of Photograph here:
Filmmakers have come up with fabulous casting decisions and once again with Sanya Malhotra and Nawazuddin Siddiqui, it has been proved, unusual pairings can win audiences' hearts. What is your take on Sanya and Nawazuddin's onscreen chemistry? Share your thoughts with us in the comment box below.