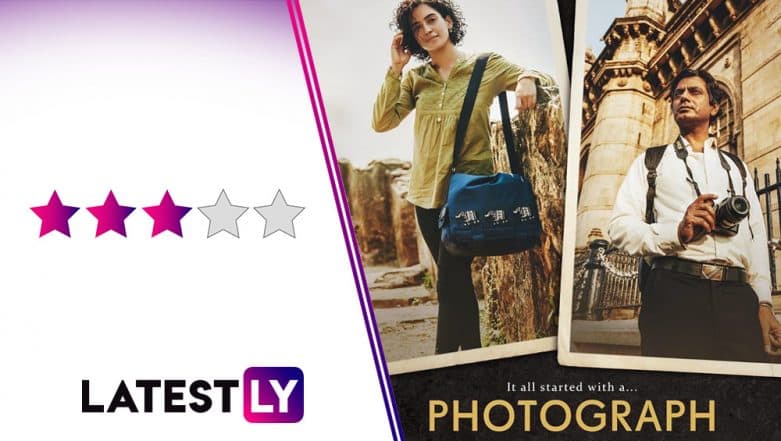 Ritesh Batra's Photograph is a love story that doesn't wish to commit to the outcome. Just like his breakout movie, The Lunchbox. Both the movies offer you a beautiful outline of a tale and expect you to fill in the details. In the case of Photograph, there is a lot more for you to fill in than The Lunchbox. Here too, Batra connects two disparate individuals through a mundane object, this time it being the titular photograph. This time, though, we get to see the physical proximity, though the relationship continues to be defined by the social distance between the subjects. Photograph Trailer: Nawazuddin Siddiqui and Sanya Malhotra's Unlikely Romance Is a Breath of Fresh Air – Watch Video.
Rafi (Nawazuddin Siddiqui) and Miloni (Sanya Malhotra) are two entities in Mumbai no one expects to bond, forget falling in love. Rafi is one of the few photographers we see hounding tourists visiting the Gateway of India, trying to convince them for one click. Miloni is a soft-spoken CA aspirant, a topper at the foundation level and the 'queen' of her coaching class' hoardings. A random moment has Rafi click a picture of Miloni, and she is left intrigued by the photo.
Rafi, who lives in a shanty with a few more people, is pestered by his granny (Farrokh Jaffer) back home in his native village, to get married. To appease her, he lies that he has found his Noorie and sends her the picture of Miloni. The granny now wants to meet 'Noorie' and leaves for the city to meet her. Wanting to cover up his lie, Rafi searches for Miloni and when he finds her, she accepts his 'proposal' to his fiancee till the time the granny is in Mumbai.
When you look at it, Photograph has the trappings of a usual love story of two people united by circumstances, but their conflict is defined by the social divide between them. We have often seen such films in the '70s to the '90s in Hindi cinema.
Through the saga of Rafi and Miloni, Ritesh Batra pays tribute to these movies and also the spirit of Mumbai. Even though Photograph is set in the smartphone era, the hesitant love story is sketched through old songs, single-screen theatres, and drives through the lanes of Old Mumbai. It ditches cafes for tapris (literally, at one point) and Ola and Uber for Kaali-Peelis. Things which we still find in Mumbai, that the 'multiplex' cinema often overlooks. Why, a forgotten beverage becomes an important plot point, leading to a very beautiful scene near the finale, equipped with its own love story. The romance itself is more about knowing glances, winsome smiles and occasional touches, never letting the viewer settle on where it is destined to head.
Photograph moves at a languid pace, sometimes to the point that everything feels stationary. Instead of developing the romance through a narrative, Batra lets it be defined as frames that often shifts to a different one, even before we try to comprehend what is happening in the previous one. Tim Gillis and Ben Kutchins' camera-work allows these frames to blur out what the leads want to blur out around them, keeping what's relevant to the 'photograph'.
Batra also peppers in occasional moments of hilarity. A casual reference to how a train from UP can arrive in two or even three days elicits chuckles from those who are well aware of the punctuality of our Railways. A childhood tale of Rafi's granny's determined love for her kids turns out to have a different, unexpected moral. And in one surprising turn, Photograph even indulges in the bizarreness of urban legends (by bringing in a cameo of an actor whose appearance lights up even the dullest of the movies). My favourite scene is the one having Rafi and Miloni in a taxi where the former, in a moment of unwanted masochism, engages in an awkward banter with the driver.
Coming to the leads, the character of Rafi, and even his granny, are easy to understand and empathise with. However, Miloni's character is left mysterious in what makes her get involved in the life and lies of Rafi. Is it the mere way of how he photographed her or is it something to do with the pressures at her home, we never get a total grasp on. We do get a few glimpses into her psyche through her occasional chats with her maid (Geetanjali Kulkarni), but her motivations are underexplored, perhaps deliberately by Batra.
Watch the Trailer of Photograph here:
Even the conclusion, surreal at that, doesn't exactly live upto that name. Batra has a thing of leaving things open-ended but here the ending doesn't exactly bring any arcs to closure, and expects you to tie up things yourself. A nice way of letting the viewer be their own story-teller, though I am not sure if it goes down well with everyone.
The Performances
Nawazuddin Siddiqui had a supporting role in Batra's The Lunchbox. With Photograph, he takes on the lead role, and once again, works out an incredibly delightful performance. Seeping deep into the role, Siddiqui keeps his act subtle and disarming. He is really incredible in the scene, when Miloni chooses him over a lecherous but rich teacher (Jim Sarbh); we can see the flush of moral victory on his face.
While her character may leave you with enough questions, Sanya Malhotra is wonderfully restrained as Miloni. Letting her eyes and her tics do more of the speaking, Sanya's performance in Photograph allows us to see a different facet of the budding actress. Farrukh Jaffar as the granny, who is smarter than she looks, is a delight every time she appears on the screen. Among the supporting cast, Geetanjali Thakur stands out with a fine performance.
Yay!
- The Performances
- The Ambivalent Narrative
- Ritesh Batra's Unusual Treatment
Nay!
- The Pace
- Some Abstract Scenes, Especially the Climax, Are Not Easy to Decipher
Final Thoughts
Photograph revels in the ambivalence of its love story, driven by little whimsical moments rather than a defined narrative. At times, the movie feels too abstract and the slow pace appears to be a hindrance. Still, Photograph is worth a watch for the superb performances from Siddiqui and Malhotra and Batra's unusual treatment.