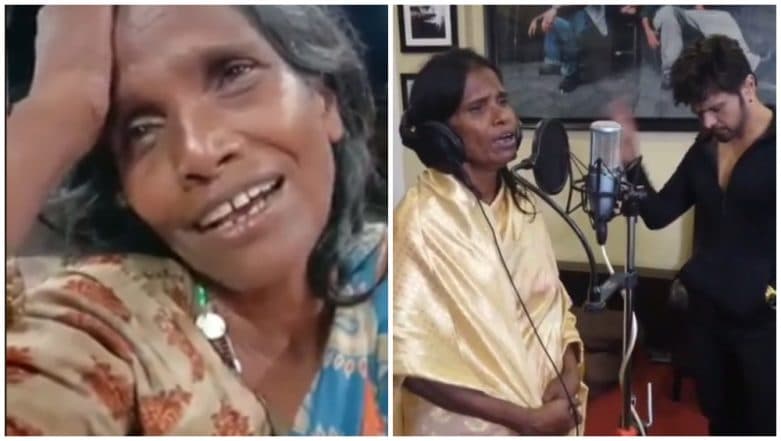 Back in July, 2019, a video of a lady singing a Lata Mangeshkar song went viral on the internet. The video featured a lady, in raggedy clothes and distressed hair, at Kolkata station. She sang a beautiful rendition of 'Ek Pyar Ka Nagma Hai', the Lata Mangeshkar and Mukesh song from the 1972 film Shor. Internet could not stop raving about her. At the moment, the video has amassed over 4.5 million views on Facebook. Call it the magic of the internet, but the lady just officially recorded her first song in a proper studio for a Hindi film. Ready to have your mind blown? Here is the story. Zomato Delivery Boy's Bollywood Rendition of 'Gori Tera Gaon Bada Pyara' Goes Viral, Watch Video.
After the viral video, the woman, later identified as Ranu Mandol, was invited to sets of the reality show, Superstar Singer, by the makers. There, Bollywood's favourite music composer-singer Himesh Reshammiya was so impressed by her voice that he promised to record a song with her. The song would be featured in Himmesh's upcoming movie, Happy Hardy And Heer.
Today, a new video of Ranu is going viral on the internet. Turns out, Himesh kept his word and gave the viral singer a chance to sing for his movie. Ranu recorded the song, titled 'Teri Meri Kahaani' today. The video from the recording studio is the one that the internet has fallen in love now.
Watch Video of Ranu Mandol Singing For Himesh Reshammiya Here:
Check Out the Orignal Viral Video Here:
Talking about his decision to give Ranu a chance, Himesh had earlier said that it was because of an advise he recieved from Salman Khan's father Salim Khan years ago. Salim had told Himesh that if he ever comes across a very talented person, he should keep that person close to him. Himesh described Ranu as 'God's gift' which should be shared with the world.