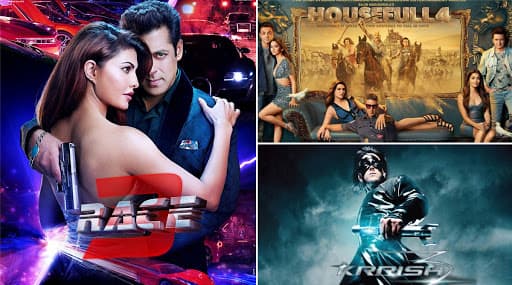 Box office numbers determine whether or not a film is a hit. After all, it's not called movie business for nothing. Everyone wants to see return of their investment and a handsome one at that. But lately, it has become more about perception and less about knowing the actual numbers. That has given rise to this monster that everyone is talking about in the industry. Ronnie Screwvalla opened a can of worms when he requested Trade Analysts to give real figures and not some conjured ones. Nobody is Going to Lie for This: Akshay Kumar on Row over Box Office Numbers of 'Housefull 4'
Housefull 4's box office numbers came under the scanner immediately as many had cast aspersions on it. Akshay Kumar however, has rubbished the whole allegation, which is not a surprise at all. It's always seen as a triumph when critics slam you and audience hail you. But that's a discussion we will have later.
In the last couple of years, many films have been accused of fudging numbers to get extra credit. So if you are on a Housefull 4 bashing mode, include these films as well who too were accused to fake box office numbers.
Housefull 4 (2019)
Let's start with the one making the most noise. As per a Mid-Day report, the first day numbers of Housefull 4 was around Rs 13-14 crore but the Taran Adarsh tweeted it to be Rs 19 crore. That began the whole conversation of how the numbers of the film were inflated to create a perception that the film is doing really well.
Race 3 (2018)
It's not secret that Race 3 didn't perform the way a Salman Khan movie is known to perform. That disappointed many. But then came the reports of how the producers are doing their best to prove that the film earned more. Trade expert Sumit Kadel had written this...
Friday- 27 cr

Saturday- 36 cr

Sunday- 37 cr

Total- 100 cr nett. Prouducer fig- 106.47 cr nett. Despite ₹ 6.47 cr inflation over the weekend, Race-3 collected huge 100 crs because of Salman mania & EID Festival. Real test begins from today.

— Sumit kadel (@SumitkadeI) June 18, 2018
Krrish 3 (2013)
Krrish 3 is quite legendary in this regards. The stories of the makers of the film giving out fake box office numbers had reached to such proportions that Hrithik Roshan had to issue a statement. He had said, "Krrish 3 has done a business of about 244 cr India and around 55 cr overseas. I wonder who these people are who have been so affected by these numbers and my success. Are they the ones I call my friends I wonder? I would like to tell them that they need not ever be insecure about another man's success cause all they need to do is concentrate on their own hard work which in turn will help them achieve what they want." It should have silenced many haters, but it unfortunately didn't!
Happy New Year (2014)
Happy New Year was a Diwali release and kind of special because this was Shah Rukh Khan's last blockbuster in recent times. This film too couldn't escape the curse of fake numbers. As per Red Chillies Entertainment, the film had pocketed Rs 1.43 Crore on Day 1 in Andhra Pradesh and Telangana. That was apparently not the case.
#HNY Telugu Didn't even release in 143 Screens leave alone about collecting 143 Lacs Nett on Day1. Big time Faking.

— AndhraBoxOffice.Com (@AndhraBoxOffice) October 25, 2014
Even #Pooja telugu didn't collect 143 lacs nett with 460 screens release & Decent crowd. Whatay epic Faking from Red Chillies & YRF. New low

— AndhraBoxOffice.Com (@AndhraBoxOffice) October 25, 2014
Kaabil-Raees (2017)
Hrithik Roshan and Shah Rukh Khan played it ugly in the January of 2017 when their movies clashed to cash in on the Republic Day holiday. So while the one-upmanship game was being played, reports flew in that the numbers of both the films are being fudged. This time there were no statements issued from either of the party.
Kabali (2016)
As per a report on DNA, the makers of Rajinikanth's Kabali circulated in the media that the film has earned Rs 250 crore on its First day while the Trade was clueless about it. The report had many trade experts finding faults in this claim by the makers of the movie.
Saaho (2019)
Saaho was Prabhas's entry in Bollywood and its box office numbers proved he is here for the long haul. But then came reports of how the numbers were fake. The makers claimed that the film earned Rs 350+ crore gross worldwide in 5 days. Trade Expert Sumit Kadel punched holes in it with his calculation which is here...
India's biggest blockbuster of the year 🔥#Saaho collects whopping 350 Cr+ gross in 5 days worldwide!

Book tickets here : https://t.co/3g8zydBuXu #SaahoInCinemas pic.twitter.com/vlh9OpcMKc

— UV Creations (@UV_Creations) September 4, 2019
International collection of #Saaho is approx 8.2M = 57 cr gross.

Hindi producer figure- ₹ 117 cr gross ( 5 days) Total- ₹ 174 cr . So according to producer figures Saaho has grossed ₹ 176 cr ( 150 cr nett) Just from AP/TL, Kerela, Karnataka/mysore & Tamil Nadu.I rest my case.

— Sumit kadel (@SumitkadeI) September 4, 2019
We hope someday there will be truth which will prevail against all these odds regarding box office numbers.