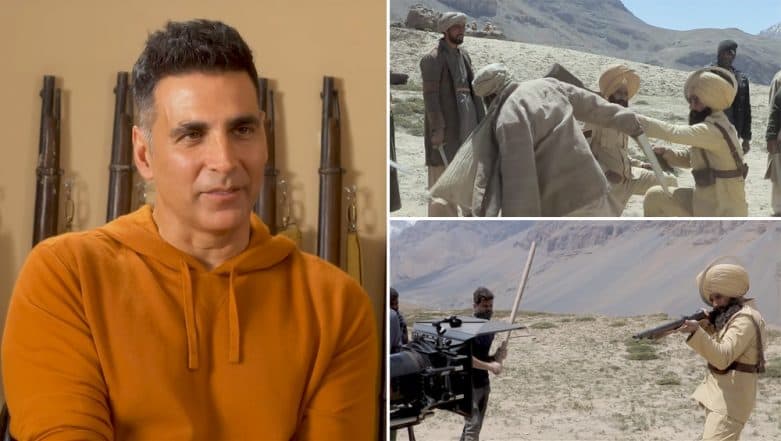 Akshay Kumar is known to deliver power-packed performances onscreen. Be it any genre, the actor owns it. When it comes to action sequences, we all know it, there is nobody better than him. He aces every stunt with absolute perfection and that's what we saw even in the trailer of Kesari. The film's trailer left us awe-struck. It had lot of action sequences and what one wanted to know was how the Batter of Saragarhi must have been recreated. Kesari: Parineeti Chopra Reveals HUGE SPOILER About Why She Won't Be Seen Much in Akshay Kumar's War Drama!
The makers of Kesari have released what went behind-the-scenes to recreate the Battle of Saragarhi. The film's lead actor Akshay Kumar has opened up on what was the most challenging part while filming the action sequences. Akshay who is known to enjoy filming for action scenes said, "I had the best time doing action for Kesari because they were raw. The very premise of the film is something that swells my chest with pride." He also mentioned, "The action choreography was quite difficult. Also, to recreate a battle that took place in 1897, we had to learn the traditional battle style then."
The action-war film Kesari is based upon the 21 Sikh warriors who fought against 10,000 Afghans in 1897. Akshay Kumar expresses in this video, "The film also salutes the never-give-up attitude the Sikhs have." Anuragh Singh, the film's director, spoke in length about the climax of Kesari. He said, "If you ask me what was the most interesting thing to choreograph, it was the climax where Akshay sir fights over a hundred men alone with his sword. That was just something else." Ajj Singh Garjega Song from Kesari: Akshay Kumar Fearlessly Leads His Men With A Loud Roar (Watch Video).
Watch the video below which shows how the action scenes were choreographed:
Kesari also stars Parineeti Chopra in the lead. We didn't get to see much of her role in the trailer, but we're sure, the actress' role would be a promising one. The film is set to release on March 21. This Holi is going to be special for all Akkians!