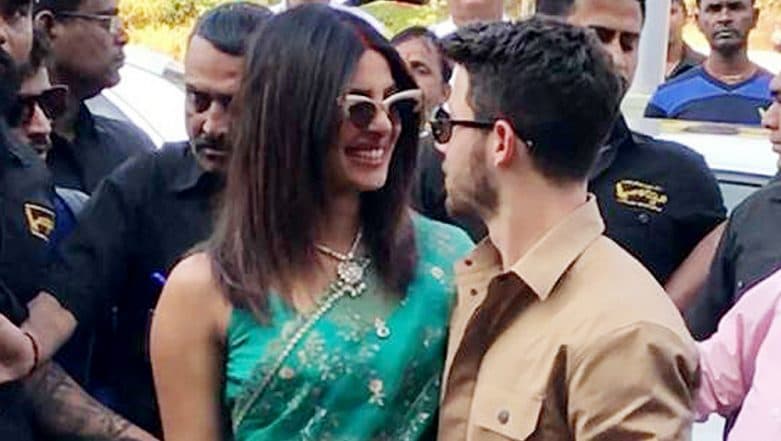 Priyanka Chopra is now Mrs Priyanka Chopra (nee Jonas, if she is gonna add her husband's surname to hers). The National-award winning actress had a royal wedding at Umaid Bhawan Palace in Rajasthan to her American boyfriend, actor-singer Nick Jonas, attended by their family members. Going by the pictures and videos that were later released on social media, it looked to be a fairy tale wedding, but not without its controversies though. But we have already talked about that, haven't we? Priyanka Chopra's Hypocrisy Exposed! Massive Fireworks at the Actress' Umaid Bhawan Palace Wedding to Nick Jonas Is Contradicting Her Pollution-Free Diwali Ad Video!
Let's talk about something even more vile here. Now Priyanka Chopra marrying Nick Jonas came as a surprise to many as nobody expected them to tie the knot after a whirlwind romance. But like they say, 'the heart wants what it wants!' So now they are married. However, it is not some common gora that Priyanka got hitched too. Nick Jonas has a massive fan following thanks to his singing career, and his previous affairs and subsequent breakups with Selena Gomez, Rita Ora, Kate Hudson, Miley Cyrus are well known. Which makes Priyanka's marriage to Nick a subject of high scrutiny for the American media. Priyanka Chopra-Nick Jonas Wedding: PC's 75-Ft Long Veil Inspires Hilarious Memes on Twitter.
While magazines like Variety, People's, The Hollywood Reporter have fairly covered the marriage, we also have some very mean articles about them. Like the one that appeared in a New York-based article, The Cut.
With a title that goes "Is Priyanka Chopra and Nick Jonas's Love for Real?", you really don't expect any respite for Priyanka in there! However, while the title looks balanced in the meanness, the content that follows is happy to portray Priyanka as this gold-digger who has ensnared this innocent boy called Nick. In the first para of the article itself, the writer calls PeeCee a 'a modern-day scam artist'! - "Priyanka Chopra is a superstar. She's stunning, talented, and recently took on the Jonas surname. It seems that she has it all — well, if "it all" includes marrying someone related to Kevin Jonas. But there's something that not many people know, or choose to accept, about the global sensation that is Priyanka: She is a modern-day scam artist, in my opinion. That's right: Nicholas Jonas married into a fraudulent relationship against his will this past Saturday, December the 1st, and I'll tell you why I think so." On a Scale of 1 to 10 in Happiness, I'm on 12: Priyanka Chopra on Her Fairytale Wedding With Nick Jonas.
Following that, the article goes on to mention that their relationship is nothing but a promotional tactic to endorse both the celebs' many brands - "After two months of dating, they became engaged in July 2018. An engagement that's been riddled with more SponCon nonsense than even I could even dream up! Ranging from Tiffany's to Amazon to the Google Pixel 3 phone to Ralph Lauren (the man who first dressed them as a couple), Priyanka and Nick are finding ways for their "love" make them money — circumventing the methods used by the celebrities of yore, who stuck to selling their wedding or baby photos to magazines. Priyanka's commitment to monetizing this life milestone should have been a huge red flag for Nick, but poor thing seems to be blinded by love."
The article then continues to throw dirt on Priyanka, while again giving Nick the benefit of the doubt - "Nick doesn't suffer from the same affliction as his wife (being and thriving on being Extra As All Fuck). For Priyanka, going overboard with all things in her life is more important than oxygen." Deepika Padukone's Congratulatory Message for Priyanka Chopra and Nick Jonas Proves Their Catfight is OVER!
"Since their marriage — the wedding ceremonies and events that began on December 1 — Nick and Priyanka have let fans and enemies alike know some of the most intimate details of their wedding. Through their social-media posts and a People magazine cover, nothing has been left up to speculation and not a hint of privacy has been offered to us from them as it relates to their coupledom."
And in the end, the article concludes itself that, yes, poor Jonas has fallen for a global scam artist. "At times, marriage can be a beautifully wonderful union that warms even the coldest of hearts, but sadly, this union evokes no such feeling. All Nick wanted was a possible fling with Hollywood's latest It Woman, but instead he wound up staring straight at a life sentence with a global scam artist. Even more upsetting, she's a scam artist who never even took the time to make sure he was comfortable riding a horse before arranging for him to enter their wedding ceremony on horseback. (Sadly, no one has yet to report on whether or not Nick Jonas was truly comfortable riding into his wedding on horseback.)"
You can read the whole article, or whatever this mud-slinging was, here.
Needless to say, the entire 'opinion piece' was reeking in racism, sexism (can't imagine that this article was written by a woman) and ageism (the fact that Priyanka is older to Nick by 10 years). What say readers?