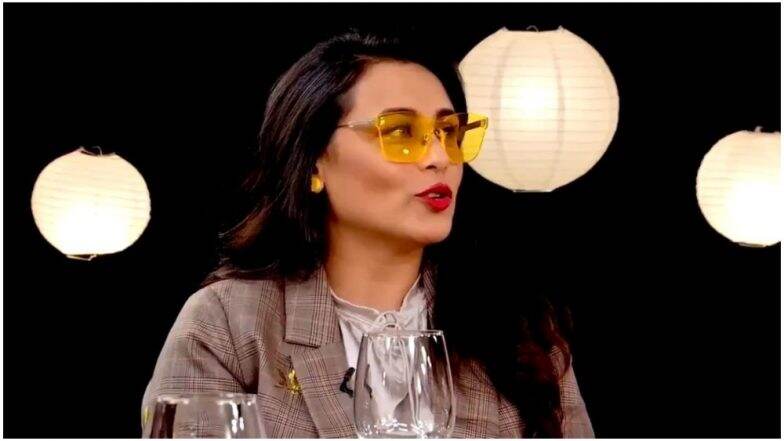 Popular journalist and critic Rajeev Masand holds this annual roundtable, featuring his choices of best actors, actresses and directors of that year. This year, for the best actresses roundtable, he brought in Rani Mukerji (Hichki), Tabu (AndhaDhun), Deepika Padukone (Padmaavat), Anushka Sharma (Pari, Sui Dhaaga and Zero), Alia Bhatt (Raazi) and Taapsee Pannu (Mulk/Manmarziyaan). Considering this year was about the surging rise of the women empowering #MeToo movement in India, the topic was, of course, expected to be discussed. Deepika Padukone in Padmaavat, Alia Bhatt in Raazi, Rani Mukerji in Hichki - Celebrating 15 Best Performances By An Actress in a Leading Role in 2018.
But little did anyone know that it would create such a huge controversy on social media, thanks to Rani Mukerji's strange views on empowering women. In the below video, you can see her talking about how every woman should be trained in self-defence, and that the mothers are expected to keep a tab on their predatory son (a sentiment also resonated in the recently released Simmba). She even shifts some of the blame to the women by saying, "Women should change before asking other people to change. They need to be strong enough to end things then and there." #MeToo Movement: I'm Concerned About Country's Anger, Says Sonu Nigam.
When Deepika, Anushka and Alia tried to argue otherwise, she even cuts in their statements to press on her defence.
Deepika, Anushka, And Alia really were making great points while Rani here makes martial arts noises. You can't make this shit up. pic.twitter.com/sceqsEj71N

— Doe (@doepikapadukone) December 29, 2018
Naturally, Rani gets slammed by many on Twitter for being so far from reality, talking from a privileged pedestal. Even the official Twitter handle of #MeToo campaign trolled her for her comments.
Tweet #1
Rani, for god's sake listen!! @deepikapadukone @aliaa08 raising important points about disparities in women's circumstances leading to different responses to VAW and the need to eliminate the root cause. https://t.co/jAFyrXjQCa

— #MeTooIndia (@IndiaMeToo) December 30, 2018
Tweet #2
As #KanganaRanaut always says people coming from privileged backgrounds won't really understand what happens in reality, they are happy in their own bubble and #RaniMukerji is one of them! She was so regressive in Roundtable and @deepikapadukone was most progressive of the lot! https://t.co/wWSHm5qcC9

— Abinash Gupta (@Abinash03111992) December 30, 2018
Tweet #3
Wow! #RaniMukerji is like the biggest ever disappoinment on actresses roundtable! On #MeToo, she says, "Women should change before asking other people to change. They need to be strong enough to end things then and there." So pissed. Deepika & Anushka give her befitting replies.

— Priyanka Sharma (@iPriyanka_S) December 29, 2018
Tweet #4
To think that #RaniMukerji in her debut film 'Raja Ki Aayegi Baarat' — in which her character Mala gets raped by a wealthy brat because she hurt his fragile ego — was blaming Mala throughout for not knowing Krav Maga. Time ruins everything man.

— Sayantan Ghosh (@sayantansunnyg) December 30, 2018
Tweet #5
Truly truly disappointed in #RaniMukerji

Her comments on the #MeToo movement were both regressive and just below the belt. Rani just lost a fan!!

Nevertheless, Thank you @RajeevMasand for the rich discussion with the rest of the ladies !! @yrf

— Neetal Parekh (@neetal4u) December 29, 2018
Tweet #6
#RaniMukerji was never relevant enough to be cancelled but seeing what she had to say abt #Metoo movement is truly appalling. The woman who has the biggest production house behind her rich entitled ass saying women should behave themselves? You've got to be kidding me!!! pic.twitter.com/RSN6jC5QNX

— ً (@srkkajol_) December 29, 2018
Tweet #7
Totally disappointed with #RaniMukerji on #MeTooIndia movement. This is what the problem with nepotism. Nepotic chicks never get to face any single stance of harassment and molestation, and they end up talking shit. Lost the respect you mardhani fake lady. #RaniMukerji

— DeepthiReddy (@DeepRK94) December 30, 2018
Tweet #8
#RaniMukerji is so far removed from reality. Make martial arts compulsory in schools but don't ask the men to keep it in their pants. @deepikapadukone just looks appalled. https://t.co/zg2L8wXBos

— Richa Tyagi (@rich_tyagi) December 30, 2018
Dear Rani, while your views may not be exactly incorrect, you forgot one big truth about the whole idea - The predators are to be blamed first and foremost. And you really didn't say much about that!