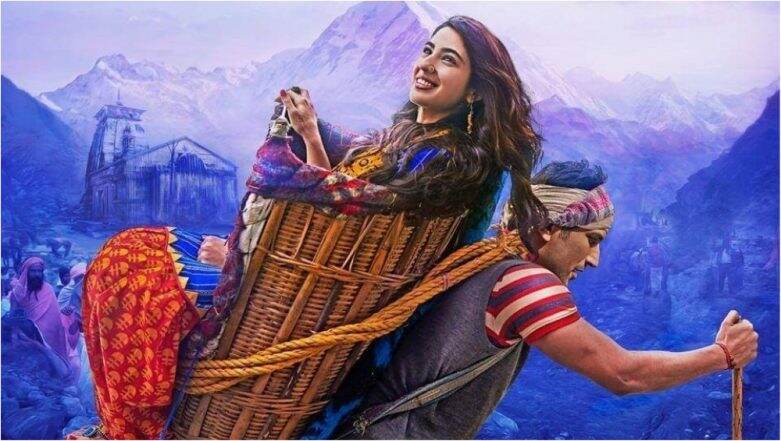 Sara Ali Khan is all set to enter Bollywood with Abhishek Kapoor's Kedarnath. The movie as we have seen in the trailer is essentially a love story set against the backdrop of pilgrimage and the calamity that shook the Uttarakhand state in 2013. While the movie had already faced its share of hurdles (Prernaa Arora - Abhishek Kapoor fight), the latest allegations were strong and hard to ignore. Soon after the release of its trailer, the movie faced opposition from a local organisation of priests as well as a senior BJP leader. Reason? Well, they believe that the movie will promote Love Jihad. Sara Ali Khan Has a Secret Fake Instagram Account That Is More Fun than Her Official One.
Sushant plays Mansoor in the movie while Sara is Mukku - a daughter of a Hindu Brahmin. The couple falls in love against every odd and rest is what forms the crux of the story. Of course, there's no way the director and the writer could have written the script keeping Love Jihad in mind (Love Jihad is when a Muslim man targets a Non-Muslim girl and asks her to convert into Islam after their marriage). While the allegations were baseless, Sara Ali Khan has finally reacted to all the reports and her reactions makes sense.
In her recent chat with Mumbai Mirror, when the debutante was asked to comment on the controversy, she said, "It's really not that kind of a film, rather it's about how Kedarnath is as much Mansoor's world as it's Mukku's. I don't understand this kind of divisiveness, but then I don't understand racism or sexism, which is rampant across the world, either. At the same time, I believe that while my life's experiences and education have shaped my thought process, the lack of it could have influenced others to think differently. And just as everyone doesn't have to like every movie, we can coexist with different worldviews." Kedarnath Song Jaan Nisaar: Sushant Singh Rajput and Sara Ali Khan's Heartbreak Track Gets an Arijit Singh Touch!
From the numerous interviews that we have seen of hers, Sara definitely comes across as an immensely confident girl and definitely not fragile. She knows how to speak her mind and how to make her point. We're glad she chose to answer such a sensitive question rather than ignoring it or simply saying 'No Comments.'