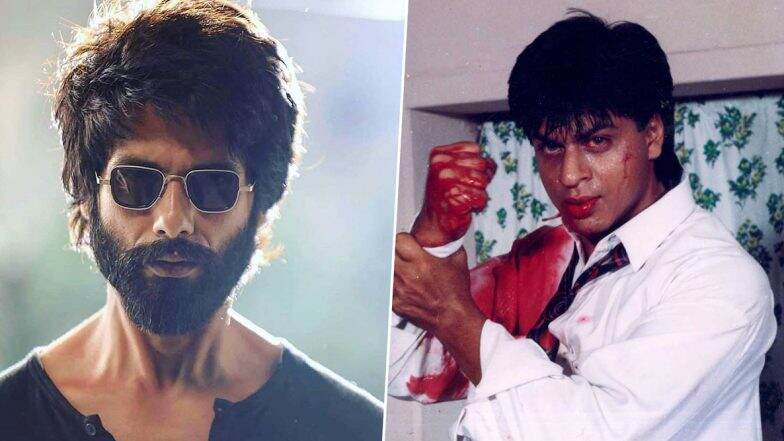 It has been months since Shahid Kapoor-Kiara Advani's Kabir Singh released but the controversies around it refuse to die. The Sandeep Reddy Vanga film was the topic of severe debates and discussions, thanks to the flawed yet glorified male protagonist and a timid female lead. The film got slammed not just for the portrayal of this doctor/senior/misogynist lover, but also for the defensive answers given by the actor and the filmmaker to this. Yet again, the movie is back in the news. This time, because Shahid feels that it is unfair to slam this character and the flick when no one targeted Shah Rukh Khan's character in Baazigar.
At the recently held India Today Conclave, he posed the question, "No one brought up Baazigar, when SRK kills Shilpa Shetty. No one said anything about putting a commode seat on Sonam Kapoor's neck in Sanju. Sab Kabir Singh ke peeche kyun pade hain?"
Okay, question noted. Now, as much as simple this question seems to be, the answer to this is equally complicated. Really, why was SRK's green-eyed anti-hero, Ajay Sharma/Vicky Malhotra spared from all this chaos? There are a few points that should be taken into the consideration.
First and foremost, like we mentioned above, he was an 'anti-hero' and not the 'hero' unlike Kabir Singh. The 90s movie that was actually inspired by British movie A Kiss Before Dying, had its goal clear- to kill the protagonist who kills everyone. Then again, in the 90s stalking was almost considered as normal as breathing (even if it's wrong), and hence, no really saw the difference then.
Even though Baazigar had Bollywood's golden pair Kajol and SRK, and the chirpy, romantic songs, it was still a revenge drama. No one claimed it to be a romantic film in the first place. On the other hand, Kabir Singh is solely focused on this uncontrollable man in love, drunk in the memories of his girlfriend Preeti, making it an out-and-out love-story.
Also, we mustn't forget that there was no social media then. There was hardly any platform for the cine-goers to discuss what went right or what went wrong. The discussions started and ended in the houses and the common hang out places, that's it. Again, it is not completely true to assume that Baazigar was not bashed. The film has been discussed widely amongst the fans even now, on the social media. Especially on the days when the film trends for completion of so and so years, there has to be an article or two mentioning how we should not celebrate this character.
Although, Kabir Singh is meant to be a flawed character in this fictional film, defending his ways when we are about to enter 2020, is something questionable. What do you think?