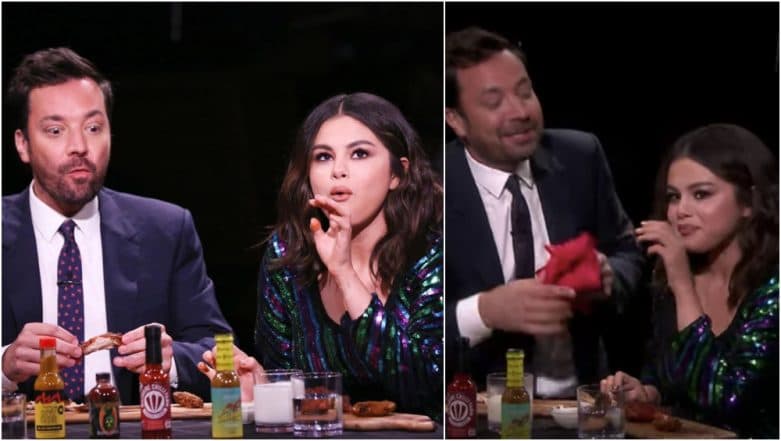 Selena Gomez recently appeared on the Tonight Show starring Jimmy Fallon and we have to say it was one of the most entertaining episodes what with the singer revealing a piece of big news for her fans. Selena once again spoke about her new album being ready on the Tonight Show. Earlier, at the premiere of her new film, The Dead Don't Die, Gomez had ecstatically replied, "Yes!" when asked if her new music was almost finished. "Yes," she added, "it's finally done."Selena Gomez Deletes Justin Bieber's Last Memory From Her Instagram.
Not just this, on the show, Jimmy Fallon challenged Selena Gomez to join him for a segment involving really spicy chicken wings and proved the pop star is a true champion when it comes to gulping down hot foods. The segment was named "Hot Ones" and it was fun to watch Sean Evans asking the pair questions as they ate hotter wings.
Watch the video here:
While Selena was a sport all through as she was eating the spicy wings, during the final question, she had to eat a sauce that according to Evans was 400 times hotter than a jalapeno pepper. After eating the hot sauce, both Selena and Jimmy were in tears as they could not deal with the extreme spice. In the video, we later see Selena saying, "Why do you do this to people?" to Evans with tears running down her face.  Selena Gomez Jokes About Getting Married To 68-Year-Old Actor Bill Murray And The Internet Is Not Taking It Lightly!
Fans are currently excited about Selena's upcoming album. The wait has been long but it but after she said, I'm just relieved. It took me four years now to even feel at a good place with this album" is certainly sounds like this one is going to a major hit.